Castle Hill Resort and Spa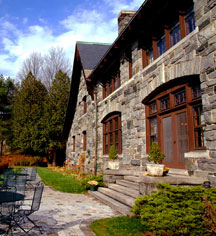 Dining
The Castle Hill Resort and Spa Restaurant
The restaurant at the Castle Hill Resort and Spa offers a memorable fine dining experience. Executive Chef Alphonsus Harris oversees this gourmet restaurant in the Ludlow, Cavendish and Proctorsville corridor. Chef Harris delivers a French-influenced feast for the eyes as well as the palate and focuses on using local, fresh produce and quality meats on the prix fixe, four-course dinner menu, which changes seasonally. This heritage resort participates in the Vermont Fresh Network, utilizing fresh locally sourced ingredients whenever possible.
The French menu is complemented by the elegant décor, rich wood paneling and club-like atmosphere.
View the Castle Hill Resort Restaurant menu.
Hours of Operation:
Breakfast: 8:00 a.m. – 10:00 a.m. daily
Dinner: 5:30 p.m. – 8:30 p.m. daily
Sweet Brier Restaurant at The Pointe at Castle Hill Resort and Spa
The Sweet Briar Restaurant offers a casual dining setting serving a daily continental breakfast buffet for guests looking for lighter fare, and for those with a serious appetite, such as skiers and snowboarders. A full hot breakfast buffet is available.
Hours of Operation:
Breakfast: 7:00 a.m. – 10:00 a.m. daily
(during the winter season)