Embassy Suites by Hilton Portland Downtown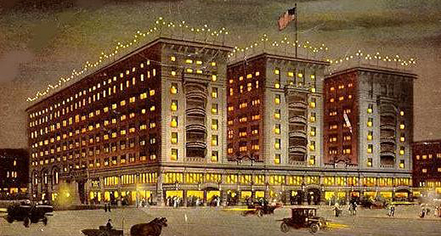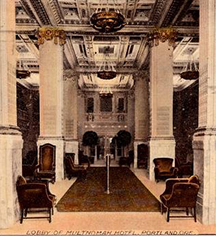 History
The Multnomah were a tribe of the Chinook Native Americans that inhabited what is now known as the Central Business District of Portland, Oregon. A grand hotel, known for years as the Multnomah Hotel. When it was built in 1912, it was Portland's most prominent hotels and, at the time, was the largest and most modern in all of the Pacific Northwest.
The Multnomah were known as "flat head" Native Americans due to their practice of fixing a piece of wood to the brow of their infants, pressuring the skull to flatten from crown to nose, resulting in the desired look that commanded respect and authority.
The Multnomah Hotel was constructed by local entrepreneur, Phillip Gevurtz. It opened in February of 1912 with 700 rooms with each room boasting an "outside facing window." As Portland's most prominent hotel, it boasted a colorful history as well as a handful of notable guests such as Queen Marie of Romania, Charles Lindbergh, Elvis Presley, and nine U.S. Presidents from Theodore Roosevelt to Richard Nixon.
During his campaign, John F. Kennedy gave an impromptu speech from a balcony in the Multnomah and in the vein of progressivism, the first "women's only" smoking room was established.
The historic hotel's legacy came to a temporary end in 1961 and by 1965, this landmark establishment was converted into government offices and remained this way until 1992. The Multnomah was purchased in 1995 and carefully renovated to preserve its historic, Neo-Classical charm and reopened in 1997 at the Embassy Suites by Hilton Portland Downtown. During renovation, the number of rooms were downsized to 276 in order to build more spacious suites. Now, most rooms boast two "outside facing windows".

Embassy Suites by Hilton Portland Downtown, a member of Historic Hotels of America since 2016, dates back to 1912.