Embassy Suites by Hilton Portland Downtown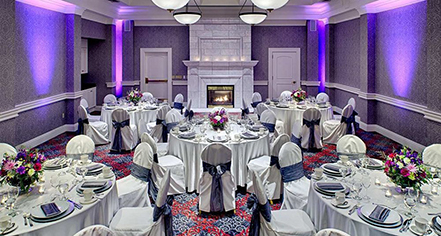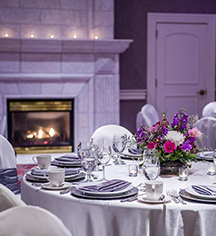 Weddings
Formerly the Multnomah Hotel, the Embassy Suites by Hilton Portland Downtown is rooted in history. The historical architectural details are complemented by an elegant, modern décor and the culinary staff is passionate about the source, quality, and freshness of each ingredient. The catering team is experienced in delivering exceptional service and an impeccable attention to detail to make the wedding day a smooth and unforgettable day.
Wedding Venues
Fireside/Gevurtz
Ideal for a ceremony and/or cocktail hour, each room seats 100 guests with beautiful focal points such as the smooth, white granite fireplace or elegant crystal chandeliers.
Queen Marie Ballroom
Breathtakingly high ceilings, vintage chandeliers, and seating for up to 150 guests banquet style and 200 theater style.
Colonel Lindbergh Ballroom
A capacity of up to 200 guests banquet style and 200 theater style which offers a larger, yet strikingly intimate setting.
Skyline Terrace
Accommodates up to 250 guests reception style with striking views of Portland's cityscape as well as views of Mt. Hood and the Willamette River.