Grand Hotel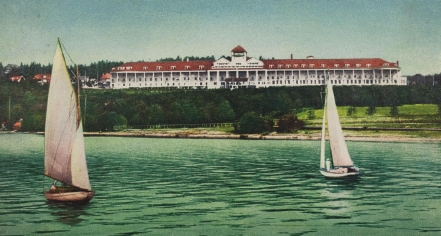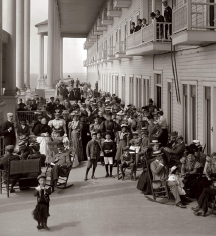 History
When it opened in 1887, the Grand Hotel on Mackinac Island was established as a summer retreat for vacationers who arrived by lake steamer from Chicago, Erie, Montreal, and Detroit, and by rail from across the continent. The property's 600-foot front porch soon became the principal meeting place for all of Mackinac Island, a promenade and "Flirtation Walk" for island romantics.
The historic hotel's west wing was added in 1897, and the popularity of Mackinac Island soared when automobiles found there was way to the island at the turn of the century. A law banning cars was soon passed, but not enforced until the 1930s. In 1933, W. Stewart Woodfill, hired as a desk clerk in 1919, purchased the hotel as a sole owner. Two years later, a radio salon was added in which guests could listen to Jack Benny and other popular programs.
In 1976, Grand Hotel President R.D. Musser (who joined the hotel staff in 1951) and wife Amelia began redesigning the landmark hotel's interior and exterior with the help of architect Richard Bos and interior decorator Carleton Varney. In 1979, the Mussers purchased the hotel. In 1998, six new named rooms opened in the West Wing in honor of first ladies Lady Bird Johnson, Betty Ford, Rosalynn Carter, Nancy Reagan and Barbara Bush. Two new two-bedroom luxury suites, the Grand and the Carleton Varney, were also added.
Two years later, the expansion continued with construction of the Millennium Wing, which was completed in 2001 and featured a 300-seat addition to the Main Dining Room, 42 new guest rooms and The Grand Pavilion, a 3,600-square-foot private meeting room and dining room. In 2003, the Masco Cottage, a four-bedroom suite, was added at the east end of the hotel, bringing the total number of guest rooms to 385.
Since 2005, a number of other additions and improvements have been made. The Gate House, a casual bar/restaurant just a short walk down Grand Hill, was opened. The hotel became certified as a Green Lodging Michigan Leader by the Michigan Department of Energy, Labor & Economic Growth. The Laura Bush Suite became the seventh First Lady Named Room.
In 2017, Grand Hotel proudly celebrated its 130th birthday on July 10.

Grand Hotel, a member of Historic Hotels of America since 2001, dates back to 1887.