Hanover Inn Dartmouth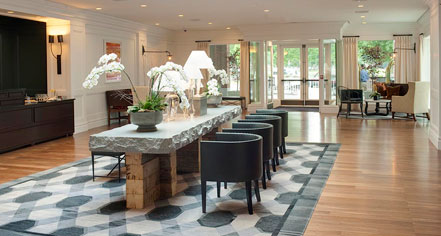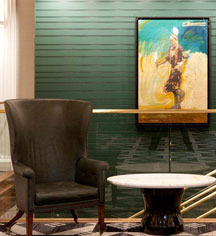 History
Part of the Dartmouth College campus, the newly renovated Hanover Inn, site of an inn since 1780, blends rich history and 21st-century conveniences and amenities in a AAA Four Diamond, 108-room boutique hotel. At the Hanover Inn, guests enjoy an authentic sense of place embodied in the locally-sourced menu, the Dartmouth alumni memorabilia, original art from the adjacent Hood Museum, New Hampshire furnishings in the guestrooms and the 2,800-pound, handcrafted granite table and fireplace surrounds that are the dramatic focal points of the lobby.
Like an intricately woven tapestry, the history of the Hanover Inn reflects the growth and change experienced by the College itself. Eleven years after Dartmouth was founded in 1769 via a charter granted by King George III, General Ebenezer Brewster arrived in Hanover to accept a position as the College steward. His home occupied the present site of the Inn.
An enterprising Connecticut Yankee, General Brewster redesigned his home in 1780 and converted it into a tavern. One historian notes that his new enterprise was "not altogether, it would seem, to the gratification of the College authorities." However, business flourished; and in 1813 General Brewster's son, Amos, had the tavern moved to another site and initiated construction of a much larger building (he accomplished this by first inducing his father to take an extended trip!).
The larger structure became known as the Dartmouth Hotel, and it housed both the permanent residents and transients. Professor Edwin J. Bartlett vividly recalled in a Dartmouth Book of Remembrance his two-year stay at a cost of six dollars per week (per person, including meals): "One would almost conclude that it was planned, furnished, and managed to drive its guests to homes of their own." One old settler echoed the professor's opinion when, in 1887, the hotel burned to the ground, saying: "God finally visited his wrath upon this architectural conglomeration by burning it down."
Two years later the Wheelock Hotel was erected, and in 1901 the College began an extensive two-year reconstruction and remodeling of the facility. Upon its completion, the new building was named the Hanover Inn.
Since that time, the history of the Inn has been one of continual growth and expansion. In 1924, an east wing was added, providing an additional 48 guestrooms for a total of 92. Exterior expansion, including an outdoor dining terrace and landscaping, was initiated in 1939. Before Dartmouth College became co-ed, the fourth floor of the Hanover Inn Dartmouth was a single women's dormitory. The Inn provided chaperones for the single female guests. In 1968, a west wing was added.
In December 2011, the Hanover Inn closed for a $43 million transformational renovation. First, the Inn completed 94 of the 108 guestrooms and opened a casual restaurant off the lobby, in time for Dartmouth Commencement in June 2012. By August, in addition to a complete upgrade of guestrooms and amenities, the hotel added the Hayward Ballroom and several executive meeting rooms, the first step towards addressing a longstanding need for modern, on-campus conference facilities reflecting Dartmouth's standing as a world-class educational and research institution. In November 2012, the complete 11,000 sq. ft. Minary Conference Center opened with a Grand Ballroom and a total of seven executive meeting rooms in addition to the Hayward. PINE restaurant created by acclaimed chef/restaurateur Michael Schlow and led by Executive Chef Justin Dain opened in March 2013 and offers an approachable and imaginative menu showcasing New England-made food and drink.
Today, the Hanover Inn Dartmouth is a AAA Four Diamond boutique hotel, with 108 guestrooms including fourteen suites in a classic neo-Georgian structure overlooking the Dartmouth Green. The Hanover Inn Dartmouth is owned by Dartmouth College and managed by Pyramid Hotel Group.

Hanover Inn Dartmouth, a member of Historic Hotels of America since 2010, dates back to 1780.
*****
Guest Historian Series
Read more about the history of Hanover Inn Dartmouth, as told by Historic Hotels of America 2014 and 2015 Historian of the Year Stanley Turkel. Excerpt is taken from his latest book Built to Last: 100+ Year-Old Hotels East of the Mississippi (AuthorHouse 2013).