Haywood Park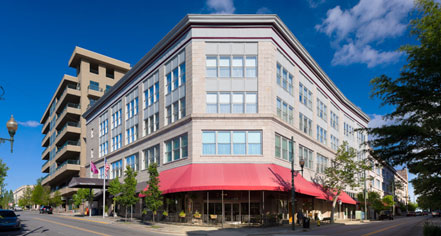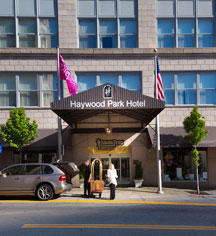 Meetings & Groups
Located in Asheville, North Carolina's designated Heart of Town, the Haywood Park Hotel is prime location to host a meeting, business luncheon, or conference. Whether the event is an intimate gathering or a large affiar, the hotel's premier meeting spaces are flexible and can accommodate a variety of events to create a successful and memorable experience.
Additional amenities
Wireless Internet Access
State-of-the-Art Audio/Visual System
Catering
Wait Staff
On-Site Valet Parking
The Atrium
The Haywood Park signature Atirum is a 4-story vaulted glass ceiling that creates an air of openness and multi-level areas ideal for corporate receptions, social soirees, or musical entertainment. Encompassing approximately 2,000 sq ft, the Atrium can accommodate up to 150 guests in a cocktail party setting.
The Starnes Room
This 1,600 sq ft room can accommodate up to 75 attendees and is often used to host seminars, lectures, and even private dinners. The room includes a 60" HDTV which is perfect for presentations.
The Board Room
Offering 900 sq ft, this room is recommended for smaller gatherings of 2 - 12 people. It has many flexible configurations in order to make the most efficient use of the space. Catering and privacy are readily available.