Island House Hotel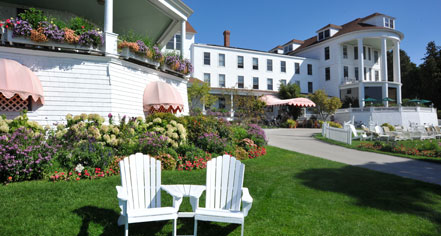 History
In the century-and-a-half since Charles O′Malley built his beach resort, more than one million visitors have experienced its pleasures. The Island House Hotel was purchased by Captain Henry Van Allen, a Great Lakes skipper who moved the property approximately 300 feet offshore to its present location.
By the 1880s, Mackinac Island was known as America′s most popular summer destination and The Island House was hailed as the island′s best family hotel. The Allen family owned, operated and expanded the landmark hotel until it was vacated in 1938. Aside from a brief period when it served as home to the Moral Rearmament Movement, the hotel stood vacant until 1949 when investors known as The Island House Incorporated hoped to restore the property′s former glory. Despite repeated attempts, the hotel did not thrive until it was acquired by a prominent local family more than 20 years later.
After a painstaking restoration, Island House Hotel reopened in 1972 and has since undergone major improvements and enhancements that have returned the hotel to its rightful place as Mackinac Island′s family hotel.

Island House Hotel, a member of Historic Hotels of America since 2005, dates back to 1852.
*****
Guest Historian Series
Read more about the history of Island House Hotel, as told by Historic Hotels of America 2014 and 2015 Historian of the Year Stanley Turkel. Excerpt is taken from his latest book Built to Last: 100+ Year-Old Hotels East of the Mississippi (AuthorHouse 2013).