Ledges Hotel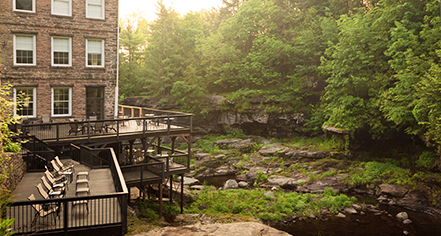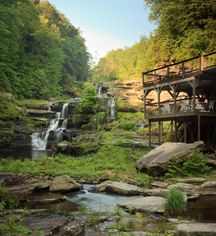 History
Built in 1890 by John S. O'Connor, the Federal-style bluestone building, that houses the Ledges Hotel today, was erected as a factory for glass manufacturing. Designed with pediment windows, shed-style roof, and decorative cornice, the three-story factory was built at the foot of the Wallenpaupack Falls representing the rich industrial culture of the region that remains historically significant today.
John S. O'Connor American Rich Cut Glass Factory manufactured cut glass using Dorflinger blanks and generated electricity from the creek directly behind the building. Born in Ireland and moved to America as a child, John S. O'Connor was a glass cutting apprentice in the factories of New York City. His skills were instantly recognized by Christian Dorflinger at White Mills, where he was employed after serving in the Civil War. O'Connor became a pioneer of the glass industry, leading the inception of many other plants, including Keystone Cut Class Company and Wagnum Cut Class Company.
Between 1880 and 1905, during the "Brilliant Period" of glass cutting, O'Conner designed his iconic collectible glass patterns, including Parisian, Florentine, and Princess. Even after T. B. Clark purchased the factory from O'Conner to relocate the Maple City Cut Class Company in 1902, catalogs offering O'Conner's brilliant cut pieces were issued.
The factory shifted from a glass cutting manufacturer into a silk mill when H.W. Kimble moved H. W. Kimble Silk Company into the building in 1926. Though, shortly after, the factory was sold to Vacca & Sons to operate the Arrow Throwing Mill, the textile industry continued to thrive in the area for decades. During World War II, Arrow Throwing Mill provided to the war effort as a supplier of yarn for Emblems and nylon for parachutes.
In 1988, the factory was converted into an inn and began its transformation from operating as an industrial firm into a tourism service.
Today, Ledges Hotel occupies the former glass cutting and silk factory and combines its original elements with modern upgrades to create a luxurious and historically rich establishment. Partnering with world-class architects of Bohlin Cywinski Jackson and custom furniture designers from Boyce Products, Ledges Hotel embodies the luxury rustic charm while celebrating its natural settings and maintaining the aesthetic and historic integrity of the building.
The building was added to the National Register of Places in 2004.

Ledges Hotel, a member of Historic Hotels of America since 2013, dates back to 1890.