Moana Surfrider, A Westin Resort & Spa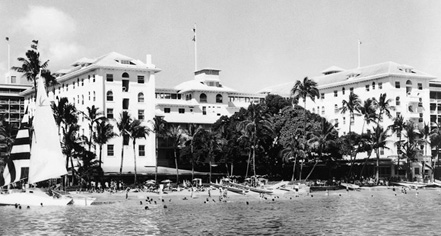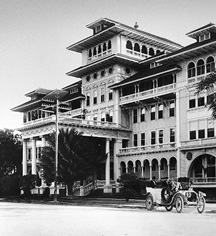 History
Opened on March 11, 1901, the Moana Surfrider, A Westin Resort & Spa, originally the Moana Hotel, was built as the first hotel in Waikiki. Wealthy Honolulu landowner, Walter Chamberlain Peacock, incorporated the Moana Hotel Company in 1896 in an effort to establish a luxury hotel in a deserted area of Waikiki.
Designed by architect Oliver G. Traphagen and built by The Lucas Brothers contractors, The Moana Hotel originally featured 75 guestrooms that included amenities that were regarded as the ultimate luxury at the time, including telephones, private baths, a billiard room, parlor, library, salon, and the first electric-powered elevator in the Territory. The opening of the hotel marked the beginning of tourism in Waikiki.
In the 1920s, Waikiki experienced a new age of urbanization and previously rural areas were divided into suburbs. By 1927, Waikiki was slowly developing into a vacation destination with the building of Waikiki Natatorium War and the Honolulu Zoo. With Waikiki becoming a growing tourist attraction, The Moana became the choice accommodations for visitors.
The height of the Waikiki's appeal was in 1934 when Harry Owens and his band became icons of popular Hawaiian music and launched the world-acclaimed radio show, Hawaii Calls. Broadcast from the courtyard of The Moana, the show created new starts and attracted luminaries to the hotel.
From 1941 to 1945, the bombing of Pearl Harbor and Second World War halted the flow of visitors. The Moana became a rest and recreation area for soldiers and sailors, often becoming the last stop for those heading to war or the first stop on American soil on their way back.
After the war, the introduction of regular airline service to Honolulu revitalized Waikiki's tourism industry and The Moana quickly regained its popularity.
In 1952, the Surfrider Hotel was built east of The Moana. When The Moana was sold to the Sheraton hotel chain in 1969, a new tower was built on the west side of the hotel and the Surfrider became a wing of the Moana.
Through decades of excellent service and luxury accommodations, the resort has experienced several renovation, expansion, and restoration projects that has allowed the hotel to maintain its reputation as a refined destination.
Moana Surfrider, A Westin Resort & Spa is listed in the National Register of Historic Places.

Moana Surfrider, A Westin Resort & Spa, a charter member of Historic Hotels of America since 1989, dates back to 1901.
*****

Guest Historian Series
Read more about the history of Moana Surfrider Hotel, as told by Historic Hotels of America 2014 and 2015 Historian of the Year Stanley Turkel. Excerpt is taken from his latest book Built to Last: 100+ Year-Old Hotels East of the Mississippi (AuthorHouse 2013).