Old Faithful Inn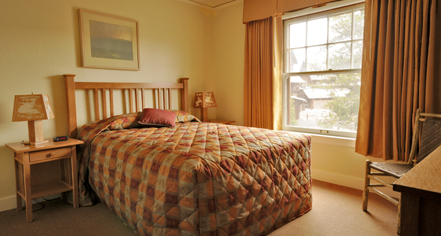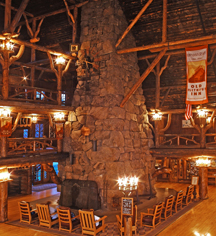 Accommodations
Old Faithful Inn offers 329 guestrooms with private or shared baths. All rooms are non-smoking and reflect the natural surroundings of Yellowstone: televisions, radios, air-conditioning, and Internet service are not available.
The following room types are available.
The suites feature a well-appointed sitting room with refrigerator and a bedroom with two queen beds. The private bath includes a tub/shower, sink, and toilet.
Semi-Suites are extra-large rooms that include a sitting area, refrigerator, and two queen beds. Private bathroom includes a tub/shower, toilet, and sink.
East Wing Geyser-side and West Wing Front-side rooms are premium accommodations looking out on the geyser basin. Well-appointed, these rooms include one or two queen beds and a private bath. (Tub/shower or shower, sink, and toilet.)
East and West Wing Standard Rooms offer attractive modern furnishings with either one or two queen-size beds and a private bath. (Tub/shower or shower, sink, and toilet.)
Old House Rooms are basic accommodations with one or two queen beds and a vanity sink. Shared bath with private showers are down the hall. A limited number of Old House rooms have private baths.
Accessible Rooms are well-appointed rooms with a queen bed and private bath located on the first floor. The bathtub has handrails and a portable shower-hose attachment. The toilet and sink are designed specifically for accessibility.
The following amenities are also available.
Bell services
Outdoor parking for cars and buses
Old Faithful Geyser view rooms (limited)
Suites offer refrigerators
Dining room
Deli
Lounge
Gift shop
For more information about Old Faithful Inn or to make reservations please visit yellowstonenationalparklodges.com/lodgings/hotel/old-faithful-inn/ or call 1.866.GEYSERLAND (866.439.7375).