Old Faithful Inn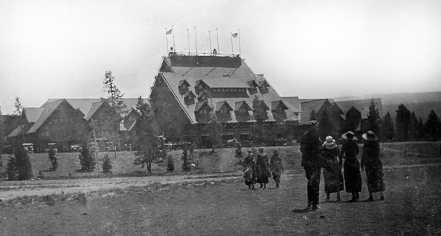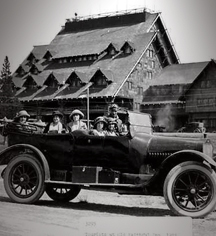 History
1903-1904 – Original "Old House" portion of Old Faithful Inn designed and built by Robert C. Reamer and 40 laborers.
1913-1914 – East wing was added to the building.
1920 – The Rear portion was added to the building.
1927-28 – West wing was added to the building as well as a porte cochere at the front of the Inn.
1936 – Bear Pit Lounge added in the area that serves as the Bear Paw Deli.
1979-1988 – A team of preservationists began returning the structure to its original design.
1987– The Old Faithful Inn is designated as a National Historic Landmark.
1992-1995 – The East and West wings underwent a $6 million renovation.
2004 – The National Park Service and Xanterra Parks & Resorts celebrate Old Faithful Inn's 100th anniversary, including an entourage of mounted park rangers, historical vehicles, and staff dressed in period attire during the celebratory ceremonies. At the close of its centennial season, an eight-year major renovation was begun to ready the Inn for its second century.
For more information about Old Faithful Inn or to make reservations please visit yellowstonenationalparklodges.com/lodgings/hotel/old-faithful-inn/ or call 1.866.GEYSERLAND (866.439.7375).



Old Faithful Inn, a member of Historic Hotels of America since 2012, dates back to 1904.