Old Faithful Inn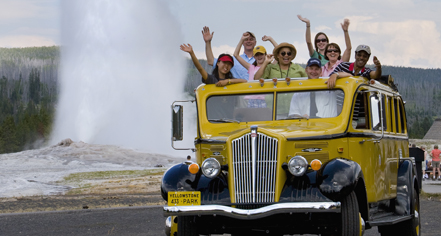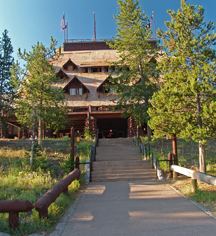 Meetings & Groups
Yellowstone National Park Lodges offer facilities and services at Old Faithful Inn for tour group excursions, business meetings, or simply informal gatherings of friends and family.
Group Meals
Old Faithful Inn is pleased to offer a variety of restaurants and group meal options. Prepaid vouchers for all meals in the full-service restaurants are available for hosts looking to simplify their meetings. Old Faithful Inn can also arrange pre-set menus for specific dining times. With some limitations, private buffet-style meals at a few of the lodging locations can be provided. Additionally, box lunches can be pre-ordered for those "on-the-go" itineraries.
Group Tours and Activities
Yellowstone is a fascinating and complicated ecosystem. To ensure guests receive the best possible experience, adding an expert interpretive guide to the trip is recommended. Old Faithful Inn offers step-on guide service as well as a variety of tours and activities, including the Old West Cookout and Stagecoach Adventures.
To ensure an enjoyable experience for all Yellowstone guests, Old Faithful Inn asks groups to adhere to the following group policies and procedures. For more information on group lodging, meal, and tour options, please visit yellowstonenationalparklodge.com or call the group reservations sales department at 307.344.5282.
For more information about Old Faithful Inn or to make reservations please visit yellowstonenationalparklodges.com/lodgings/hotel/old-faithful-inn/ or call 1.866.GEYSERLAND (866.439.7375).