Pinehurst Resort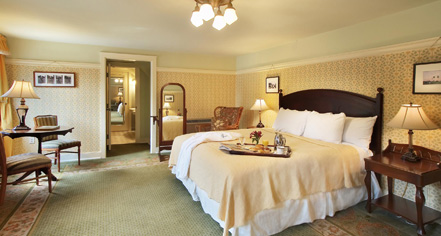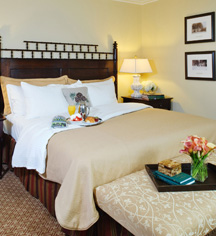 Accommodations
With a variety of accommodation options, Pinehurst Resort is committed to offering guests of all styles and travel needs with thoughtfully-appointed guestrooms and suites. Seamlessly blending Southern charm with elegant facilities, the resort affords convenient facilities and impeccable service that ensure a memorable stay. A complimentary shuttle service is available to and from any of the accommodations and the rest of the resort.
The Carolina
Situated on the tree-lined Carolina Vista avenue, The Carolina is a majestic, century-old hotel exuding the spirit of Pinehurst. Boasting 230 Four-Diamond guestrooms and suites, its signature copper cupola, and sweeping verandas, the hotel has been dubbed "Queen of the South" for its distinguished hospitality and time-tested elegance.
Carolina Villas
Adjacent to The Carolina, The Villas are a perfect option for guests with 3-5 in their group or anyone who wants more room and privacy but still desires the Carolina experience. Villas are furnished with four private guestrooms, a shared parlor, walk-in wet bar, and private patios and balconies.
The Holly Inn
A Four-Diamond hotel, The Holly Inn boasts thoughtfully-appointed interiors and a picturesque exterior that welcomes guests to its attentive service, comfortable accommodations, and fine cuisine at the 1895 Grille. From a series of natural botanical prints and images, the jewel-toned Tiffany lamps, and reading selection in the library, the hotel affords refined charm and historic details in every corner.
The Manor Inn
Taking its cue from North Carolina's strong outdoor influence, The Manor Inn exudes a sportsman's lodge ambiance. Guests will feel at home with a Southern sun room, charming lounge, and ample-sized guestrooms. The Manor was one of Arnold Palmer's favorite spots, where he remembers visiting with his dad as a boy.
The Condos
For families and groups, The Condos at Pinehurst provide lovely views of pristine fairways and Lake Pinehurst. Guests can choose from two- or three-bedroom condos, each furnished with a full kitchen, living area, and private baths.