Pinehurst Resort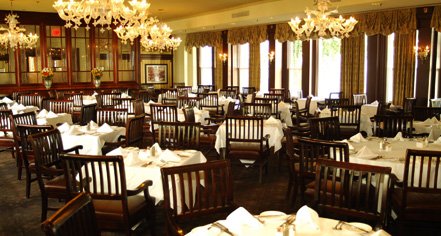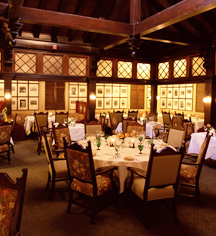 Dining
Affording eight different dining establishments, Pinehurst Resort boasts a variety of exquisite cuisine, award-winning wine lists, and impeccable service.
The 1895 Grill
Situated at The Holly Inn, the 1895 Grille serves a refined menu of authentic Carolina flavors in an intimate dining room. Led by award-winning chefs, this Four Diamond-rated restaurant affords a unique culinary experience with every bite.
The Carolina Dining Room
Open for breakfast and dinner daily, the historic Carolina Dining Room features Executive Chef Thierry Debailleul's sophisticated, seasonally-changing menu which utilizes local farmer picks and fresh flavors of the area. Known as the best in golf, the renowned breakfast buffet includes made-to-order omelets, fresh fruit, and Southern favorites with piano accompaniment.
The Tavern
A casual, pub-style eatery, The Tavern at The Holly Inn serves lunch and dinner daily, offering a variety of panini, salads, soups, pasta, beef, and other entrees. Boasting an authentic Scottish oak bar, The Tavern also features full beverage service in an informal setting.
The Ryder Cup Lounge
Named for the 1951 Ryder Cup held at Pinehurst, this historic restaurant and bar offers classic American fare with a twist and a signature cocktail menu. Furnished with large televisions, The Ryder Cup Lounge allow diners to enjoy their meal amid golf or other sports action. This casual establishment affords a picturesque veranda for outdoor dining.
The Donald Ross Grill
In addition to golf course designer and head professional, Donald Ross also served as Grill Manager during part of his tenure at Pinehurst. Located in the Resort Clubhouse, this favorite lunch eatery for golfers features an array of salads and sandwiches, homemade soups and hot entrees, and a full buffet during the busiest seasons. Enjoy outdoor or indoor dining with views of the putting green and golf courses.