Publick House Historic Inn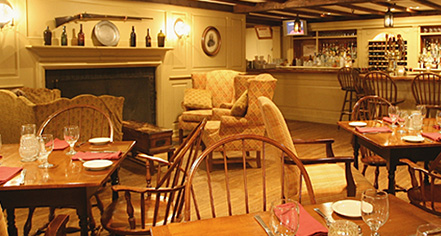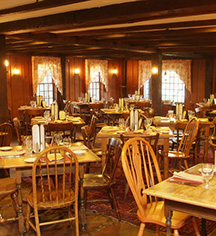 Dining
Dining at the Publick House Historic Inn is a step back in time with traditional New England meals and superb old-fashioned hospitality. The Historic Tap Room, where founder Colonel Ebenezer Crafts is said to have guzzled straight from the kegs, has a delectable menu matched with specialty drinks. Ebenezer's Tavern is where Revolutionary troops once entertained themselves and features oversized meals to match the oversized furnishings. Guests seeking a strong cup of coffee and a sweet pastry can stop at the Publick House Bake Shoppe.
Historic Tap Room
The Historic Tap Room's rustic wide plank wooden floors, six-foot wide hearth, and large center beam is the Inn's original dining room. It serves up meals like roasted turkey and Yankee pot roast for dinner.
Ebenezer's Tavern
Serving drinks like fruity Chardonnay, guests polish off dishes like lobster mac-n-cheese, jumbo crab cakes, or shepherd's pie while sitting in oversized wingback chairs in front of the fireplace
Publick House Bake Shoppe
This old-fashioned bakery offers sweet treats like pecan sweet rolls, home-made breads, and even wedding cakes that can be delivered worldwide.