Publick House Historic Inn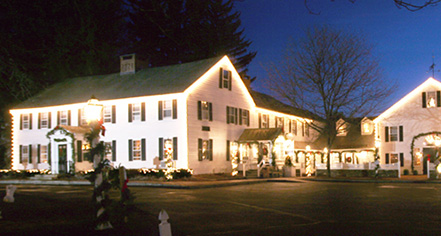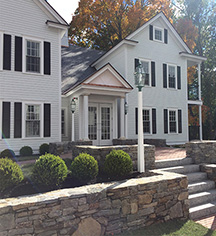 History
Located in Sturbridge, Massachusetts, the Publick House Historic Inn was established in 1771. It was built by Colonel Ebenezer Crafts of what is now Pomfret, Connecticut. He originally planned to go into the ministry after his time at Yale Divinity School. At the suggestion of his friend from college, native Sturbridge resident Joshua Payne, Crafts applied to a parish in Sturbridge, Massachusetts. Payne was chosen over him and friendship splintered. Crafts went back to Pomfret, married, and began a life there in the military, as an homage to his military captain father.
After the loss of two children, Crafts' wife, Mehitabel, asked Crafts to leave the home that reminded her of such sadness. Payne reached out and offered Crafts the chance to return to Sturbridge to rekindle their friendship. While visiting, Crafts fell in love with a plot of land that flanked the town and eventually found it was owned by a Dr. Elisha Marcy. After asking Marcy if he would be willing to sell the land, Marcy refused until Crafts challenged him to bet his land on a new game he'd discovered called "cards." Crafts won, brought his family to the land, and built a large house with the help of Payne and his parishioners, which he called Craft's Tavern in 1771.
The original Inn consisted of 13 overnight guestrooms, which held four people per bed. There was a general store in what is now the Pumpkin Room; a men's smoking room (now the Card Room) for daily gathering, sharing news, and gossip; and a Ladies Parlor connected to it via door. The kitchen, which is now the Tap Room, held a huge fireplace used for cooking large batches of food that is now used as a hearth. The Tap Room, now the Pineapple Room, held large barrels of rum, from which the robust Craft would lift and drink from directly.
In 1784, the still young United States hit its first depression and money lost its value. Due to financial constraints, Crafts was forced to sell the Inn and moved to Vermont and founded the town of Craftsbury. His one surviving son, Samuel, eventually became the first Governor of Vermont. The Inn was supported by manual labor and trade in exchange for a place to stay.
In the 1920s, the property became a boarding house for women called the Elms, where any woman seeking shelter was offered room, board, and meals for a small fee. Badly needed repairs almost called for the Elms to be closed for the first time ever, when it was purchased by a man named Richard Paige, who paid $1.00 for the building in a card game. Paige restored the building to its Tavern and Inn roots, and allowed the U.S. Army to use the building as a post for traveling soldiers. Thanks to his innovation and respect for history, what is now known as the Publick House Historic Inn has never closed its doors and has continued to offer unmatched hospitality and affordable accommodations to guests for over 230 years.
Publick House Historic Inn, a member of Historic Hotels of America since 2018, dates back to 1771.