Skytop Lodge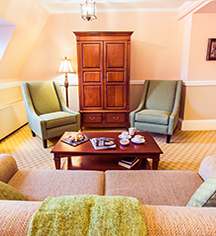 Accommodations
The Skytop Lodge has 125 guestrooms within its Dutch Colonial-style manor facade, including 27 mini-suites and three executive suites. Also, 12 four-bedroom cottages are available for those who want the utmost in privacy. And for golfers, the 20-room Inn at Skytop provides luxury accommodations right on the course.

Room amenities include:

Low floor
Balcony-inn rooms
Bed board
Connecting room
High-speed Internet access
Early arrival
Express check-out
Foam pillows
Refrigerator
Hair dryer
High floor
Handicap room
Rollaway requested
Extra towels
Babysitters, available on request
In-room safe request-inn
Extra hangers
Crib
Extra pillows
Non smoking
No flowers
Near elevator request
Bathrobe requested

Business Travel:
With 20 meeting rooms and several Executive Suites available to our guests, Skytop Lodge is the perfect location to mix business and pleasure. A myriad of audio-visual equipment and the staff's wide range of support services will ensure your meeting is a productive success. And when your work is done, let the play begin. Each room also has high speed Internet access.