St. James Hotel MN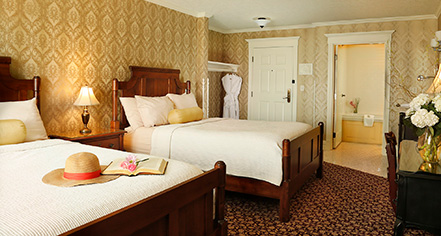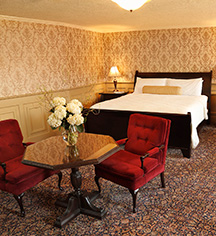 Accommodations
The St. James Hotel′s 67 charming guestrooms feature period Victorian antique decor and all the modern amenities expected by today's travelers. No two rooms are alike, and each is named after one of the 19th-century riverboats that plied the waters of the Mississippi River, and many offer views of the Ol' Miss.
Architectural styles differ from the Historic section to the Riverside. The Historic section is of the Italianate style, which was popular in the U.S. in the early to mid-19th century. Tall, narrow windows, a low-pitch hipped roof and overhanging eaves supported by decorative brackets characterize this style. The rooms tend to be square or rectangular in shape and boast higher ceilings. The hallways of the Historic section are almost twice as wide as a modern hallway as they were built to accommodate the hoop skirts of the era, especially since "well-bred" women did not go anywhere without taking the arm of an escort or another female companion – also in a hoop skirt.
En route to the guestrooms in the Historic section you'll find bits of history on the walls with art and antiques from the past century. Old doorways remain as "Historical Vignettes", where you'll find pictures and stories from Red Wing's past. A picture of each room's namesake is place in each room. On the wall of the third floor landing of the grand staircase hangs a quilt commemorating those who lost their lives in the tragic Lake Pepin Sea Wing disaster.
The 1977 addition of the Riverside section is modern in its construction with bay windows facing the Mississippi River. The curved structure allows some of the rooms to be charming and odd-shaped. The ceilings are of standard height and hallways are long and narrow like those in most modern hotels. Guests in modern fashion have little trouble navigating them. The Riverside section features some nineteenth century art and antiques, though not as prevalent as in the Historic section.
Explore Accommodations at St. James Hotel
Standard and Deluxe Rooms
Guests can choose between a Standard Queen, Deluxe Queen, Deluxe Double Queen, Deluxe Double Full, or a Deluxe King. Each room is unique in decor, shape, and size due to the historic nature and offers names such as, "Netta Durant,", "Ben Hur," and "Ravenna." Standard and Deluxe Accommodations at the St. James Hotel offer views of the Mississippi River and beautiful downtown Red Wing, MN.
Premium Rooms
Premium rooms offer its guests luxurious king, queen, or full-sized pillow top beds and breathtaking views of the Mississippi River or fabulous downtown Red Wing. Upon request, Premium Rooms can include multiple beds or pullout couches for a perfect getaway for the whole family.
Whirlpool Rooms
There's no better way to end a day than by taking a relaxing soak in a hot whirlpool tub. Whirlpool room beds are available in Queen, Double Queen, or King. Guests can explore boating and nautical history with room names of U.S. David Tipton, Creeping Bear, and Manitou.
Suites
The St. James Hotel offers seven Jr. Suites. Five suites were added in 2016 and architectural engineers masterfully aligned modern day conveniences with the historical 19th century setting and the storied past of Hamline University. As Minnesota's oldest university, Hamline's first home was in Red Wing from 1854-1869. Mantles, arches, windows, furniture, and original wood flooring were gathered and re-purposed from the original President's House in St. Paul have been incorporated into each suite. This unique harmony of historical vestige and hospitality luxuries will make the next event an impressive experience. Indulge the event guests with private, top class accommodations enriched with history at the St. James Hotel.
The Iron Works Flat
Stretch out and breath easy in this apartment-style suite. The flat includes a large screen television with full theater sound in a full living room, king-sized bed, whirlpool bath, separate shower, hardwood floors, marble counter tops in the full kitchen, washer, dryer, and expansive views of the Mississippi River and Barn Bluff.
Guestroom and Suite Amenities
High quality mattresses
Wireless Internet access
Pillow menu
Iron and board
Flat screen TV with cable and HD channels
Morning newspaper
AM/FM Alarm Clock with iPod docking station
Plush bathrobes
Business workspace
Bath salts
Dry cleaning service available