St. James Hotel MN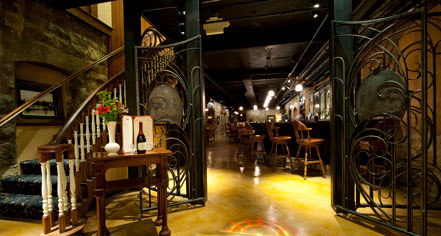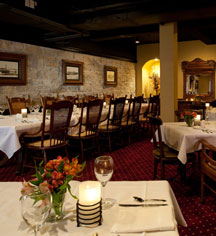 Dining
The St. James Hotel offers three on-site dining establishments and one coffee shop. Guests can enjoy something simple, from a cup of coffee and a scone at Clara's Gifts and Coffee to a glass of wine along with a gourmet meal at The Port or The Veranda. A range of dining options is afforded at this Red Wing, Minnesota historic hotel to please even the pickiest of eaters in a party.
The Veranda
The Veranda restaurant is the only place in Red Wing where guests can enjoy a wide variety of casual dining while taking in stellar views of the Mississippi River. The diverse menu of breakfast, lunch, and dinner options can be savored in a number of indoor and outdoor settings. There really is something (and somewhere) for everyone at The Veranda at the St. James Hotel. Weather-permitting and the mixture of cool river air on the Patio turns any meal into a fun event, or enjoy coffee or appetizers and pleasant river views from the oversize rocking chairs on the porch. Reservations can be made for parties of five or more.
The Port
One of the finest dining experience in Red Wing, The Port, is tucked away on the lower level of the St. James Hotel featuring an elegant atmosphere that is perfect for that romantic dinner, special occasion, or intimate get-together. Guests can also relax in the lounge with a glass of wine or handcrafted ale. The award-winning chef creates seasonal wonders on a nightly basis. As a perpetual winner of the Wine Spectator's Award of Excellence, The Port can complement every delicious dish with a palate-pleasing selection from the wine cellar.
Jimmy′s Pub
Jimmy′s Pub is an Old World getaway from life's hectic pace. The British-style pub offers an eclectic menu of beer, wine, and spirits, as well as a full menu of appetizers and light dinners. Sip handcrafted ale at the mahogany bar or enjoy a light dinner beside the crackling fire. Featured every Friday night is live entertainment, and beautiful views of downtown Red Wing is highlighted every day of the week.
Clara's Gifts and Coffee
On the go? Grab a quick snack or coffee at Clara's, proudly serving local BLUECAF coffee from Pepin, WI. The decades-famous Clara's Gifts and Coffee within the St. James courtyard has served coffee and pastries to hungry guests and train travelers for over 70 years.