The American Club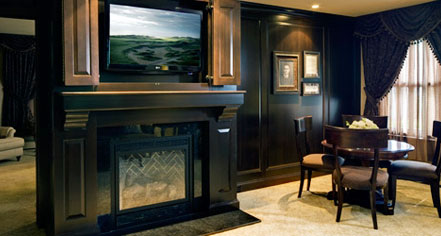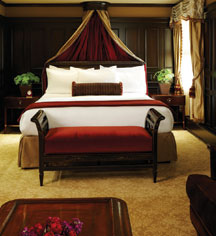 History
The town of Riverside, Wisconsin was founded in 1873. When the Kohler Company decided to move its operation to a small rural village outside of Sheboygan in 1899, the president, Walter J. Kohler wanted to build a community around his factory - similiar to the communities he had seen in Europe.
By 1912, Riverside was no longer and the Village of Kohler was incorporated. Kohler's vision was to house single workers, specifically, immigrants who had moved to this country to find work and a sense of belonging in their new community. People had immigrated from Austria, Russia, Germany, Holland, and various other places.
John Michael Kohler, son of Walter and the second president of the Kohler Company, decided to house those looking for places to live for only $27.50 per month. Housing included a private room, laundry service, and three square meals a day. A big Tudor-style building was erected and it was named The American Club. It housed single workers and included a pub, bowling alley, barbershop, lessons in American citizenship, and English lessons. It was truly an all-encompassing facility to help workers make their way in their new chosen home.
As time passed and workers moved on and had families and houses of their own, The American Club lost some of its purpose and fell into disrepair. That's when Herbert V. Kohler Jr., the current president of Kohler Company, suggested turning the facility into an elegant village inn. Several consultants told him it was a bad idea, however, he pushed on ahead. The American Club is now the Midwest's only AAA Five Diamond and Forbes Five Star resort with luxurious accommodations and plenty of activities for the whole family.