The American Club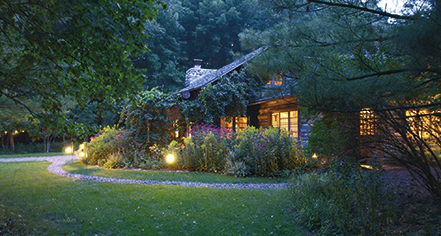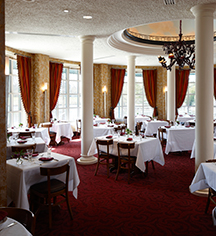 Weddings
The American Club is ideally suited to host nuptial celebrations on almost any scale. Venues are dripping with character, romance, and charm.
Gazebo Courtyard
A natural outdoor setting encompassed by the historical charm of The American Club. A private, yet centrally located octagon-shaped wooden gazebo perfect for wedding vows. The natural blooms provide nature's decorations and three entrances provide separate entries for guests and the wedding party.
Capacity: 250 guests
Available for ceremony only and/or cocktail reception
Row seating available for ceremony
High-low cocktail tables and outdoor bars available for receptions
The Fountain Courtyard
Another charming, outdoor setting against the stained glass backdrop of The Greenhouse for an intimate wedding or cocktail reception. Also featured is an antique solarium relocated from Chorley, Lancashire, to serve as the garden café of The American Club.
Capacity: 50 guests
Two hanging swings
Two naturally shaded areas
The Grand Hall of the Great Lakes
Have the best of both worlds in the largest of the reception areas with an intimate feel despite its spacious design. The room features a grand piano, built-in-bar, and high-low tables.
Capacity: 450 guests
7519 sq. ft. total
Can hang projector
Built-in screens
Fully ADA-compliant
Great Bay Ballroom
Tasteful and uncommon elegance with 10-foot ceilings, crystal chandeliers, and a neutral backdrop to complment any color scheme.
Capacity: 100 guests
2427 sq ft
Buffet-style dinner can be served in the foyer
Thunder Bay/Marquette/Bay de Noc Rooms
Ideal for a wedding reception or a ceremony due to its long, narrow shape. The room includes decorative wall panels, intricate chandeliers, and coved ceilings with a foyer that can be used for cocktail receptions.
Capacity: 30 - 50 guests
Founder's Room
A cozy place for an intimate wedding, especially winter weddings, this room features ornate, beautiful woodwork, a sitting room, a fireplace, and a private dining room. Guests have the option to go outside onto the private courtyard terrace through the French doors.
Capacity: 24 guests; 14–20 for dinner
Includes sitting area for cocktails, boardroom for dining and private terrace
Player's Room at Whistling Straits
Rich wood details and a cozy fireplace make this upstairs room at the Whistling Straits Clubhouse and cozy, quaint backdrop for an intimate wedding reception or rehersal dinner. Equipped with a fireplace and a bar, this room offers views of the golf course.
Capacity: 28 guests
Ideal for rehearsal dinners and small receptions
Irish Barn at Whistling Straits
Built in the style of an Irish countryside barn, the entire eastern wall is exposed to the elements and serves as one of the more unique wedding locations at The American Club. The location overlooks the golf course and Lake Michigan and offers an air of rustic elegance. Windows can be covered with canvas and stand heaters turned on if needed.
Capacity for reception: seating for 120 guests
Capacity for ceremony only: 250 guests (with tent rental)
The Irish Barn cannot accommodate both a reception and a ceremony; see Championship Locker
Room Terrace for additional location
Championship Locker Room available for private bridal party changing room (additional fee)
Buffet dining only
Built-in bar
Championship Locker Room Terrace at Whistling Straits
Right next to the Irish Barn, this venue is ideal for an outdoor wedding ceremony, covered with a trellis decorated with natural vines and flowers and the Terrace provides a fantastic view of the golf course.
Capacity: 120 guests
The Championship Locker Room Terrace cannot accommodate both a reception and a ceremony; see Irish Barn for additional location.
Wolf Pack/Bear Clan at Blackwolf Run
What would it be like to get married in a hunter's lodge? This venue comes close with its rustic style reception area with iron chandeliers, bear skin rugs, and a view of the golf course with a private terrace overlooking the 18th hole where guests can cheer golfers on to the finish.
Capacity: 150 guests – if 70 or more, Enclosed Terrace will house reception, and Wolf Pack/Bear Clan will be used for dinner
Private entrance to the parking lot
Treaty Room at Blackwolf Run
Another rustic-style venue on the lower level of the Blackwolf Run Clubhouse perfect for an intimate wedding reception or rehersal dinner.
50 guests
Nearby locker rooms offer preparation space for the bridal party
Woodlands Hall
A modern, contemporary design, compared to the historic architecture of The American Club. This venue features neutral tones to adhere to any color scheme.
Capacity: 150 guests
Buffet dining only
Inn on Woodlake Beach at Inn on Woodlake
a quaint area, attune with nature, equipped with a private beach, provides nature's decoration of trees and shrubs for a picture perfect backdrop for weddings and vows.
Capacity: 50 guests
Adjacent to Inn on Woodlake patio
Ample parking for guests
Inn on Woodlake Patio
A breezy outdoor venue on the patio ideal for cocktail receptions or post-wedding brunches with wrought iron tables and a firepit.
Capacity: 75 standing, 50 seated guests
Adjacent to Inn on Woodlake's private beach
Ample parking for guests