The Cliff House at Pikes Peak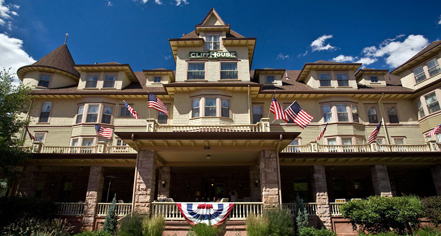 The Red Mountain Bar and Grill
While the The Cliff House dining room is about the experiencing new tastes and exploring new horizons in fine dining, The Red Mountain Bar and Grill all about comfort food and good times. Whether it's the plush leather sofas, the dark wood and cool marble of the bar, the massive flat-screen TV's or the stunning 2nd story balcony with a romantic fire-pit patio below, you can't help but feel at home in our newest restaurant.

Chef Savage salutes the best of classic Americana and pub fare with his familiar and deliciously naughty twists on the great bar/bistro staples. And with an affordable and impressive selection of over 40+ domestic and imported micro-brews, rare fine spirits, or a masterful take on your favorite cocktails, we assure you the warm glow won't only be coming from the fireplace.

Dress Code
Because of our unique setting and western location, we do not have a set dress code. Guests should feel comfortable when at the Cliff House.