The Edgewater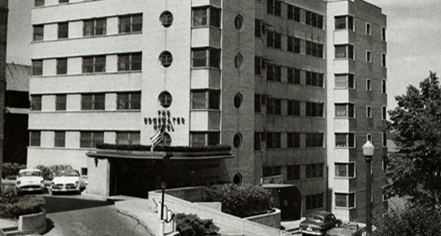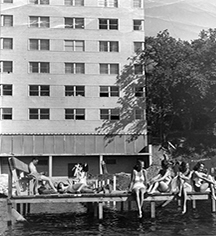 History
The Edgewater first opened its doors in Madison on the shores of Lake Mendota in the 1940s, and quickly became recognized as a prominent part of the community—the venue of choice for the city's politicians, university faculty, businessmen, and their families.
Sitting right in the heart of the city, next door to the University of Wisconsin-Madison and just a stone's throw from the state Capitol, The Edgewater served as the place to stay for Madison visitors and the city's favorite place for waterfront relaxation, fine dining, dancing, and important meetings for most of the last 65 years.
In the hotel's early days, big bands led by the likes of Woody Herman entertained guests from the roof of the original building. Throughout the decades, The Edgewater hosted an array of celebrities, including Elvis Presley, Elton John, and Bob Marley, as well as the Dalai Lama and many other dignitaries. There's even a story that Sammy Davis Jr. attempted to fish from his hotel window overlooking the lake!
In the 1970s, The Edgewater expanded to accommodate more overnight guests and added several signature amenities, including its restaurant, which quickly became beloved for its food, service, and beautiful lakeside views.
The next great leap for The Edgewater was in August 2014 when the hotel, still owned and operated by a team that lives in and loves their city, reopened with the addition of a beautiful new tower and the complete remodeling of the two existing buildings. This ownership and management team have spared no effort to create a property that offers every amenity that discerning tastes expect. And of equal or even greater importance, they have focused on re-creating that sweetheart relationship long enjoyed between the city and its finest hotel, by focusing on The Edgewater's special kind of hospitality, a thoughtfulness and caring courtesy that comes from the heart rather than a corporate training manual.

The Edgewater, a member of Historic Hotels of America since 2015, dates back to 1948.