Fairmont Sonoma Mission Inn & Spa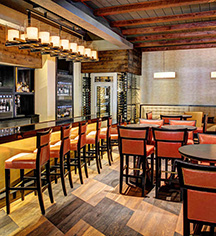 Dining
Boasting a full variety of cuisine, the Fairmont Sonoma Mission Inn & Spa offers multiple fine-dining establishments that embody the refined California setting.
Santé Restaurant
Santé Restaurant is the Inn's premier dining room and has earned a national reputation for its outstanding food. Recipient of the AAA Four Diamond Award and Michelin designations, Santé is amongst the top-rated restaurants in the greater San Francisco Bay Area. Condé Nast Traveler said 'it's worth a special trip just to eat here' and Gourmet Magazine calls the food 'the best of the new Wine Country style.' Only the freshest local produce, meats, poultry, and seafood are used to create elegantly simple dishes that let the natural flavors of the food speak for itself.
A wine list, honored with Wine Spectator's 'Award of Excellence' features over 500 Sonoma and Napa wines. The Elite Traveler & Laurent-Perrier includes Santé in Top 100 Restaurants in the World.
Dress Code is Wine Country Casual. For reservations or more information please phone 707-939-2415.
Hours of operation
Breakfast, 7:00 a.m. to 11:00 a.m.
Lunch, 11:00 a.m. to 2:00 p.m.
Dinner, 6:00 p.m. to 9:00 p.m.
38º North
38º North at the Fairmont Sonoma Mission Inn is Wine Country's hottest new Sonoma, CA lounge venue. The new lounge's sleek design, led by California based KNA Designs, respects the property's minimalist design while maximizing the historic nuances and mission-style architecture of the storied Inn. The enhanced incorporation of natural light and bursts of color promise to produce timeless aesthetics.
The 38th parallel north is a circle of latitude that crosses Europe, the Mediterranean, Asia, the Pacific, North America (Sonoma, CA) and the Atlantic. This notable imaginary east-west circle has quite a global history. The inspiration for the unique Wine-Centric style lounge is the temperate latitude of the 38th parallel, along which the world's most iconic wine regions sit including Alicante in Spain, Italy's Calabria, New Zealand's Hunter's and Hawke's Bay and of course the famed Sonoma Valley. 38º North is a meritage of wines and flavors, proudly pouring more than 50 wines by the glass from handpicked local and international wineries. The unparalleled wines by the glass menu will showcase cult favorites including Screaming Eagle, Kamen and the ever-popular sparkler, Dom Perignon Brut.
Dress Code is Wine Country Casual.
Hours of operation
Daily, 4:00 p.m. to 10 p.m.
The Water Tower
The Water Tower Bar, located off the resort's main pool, is a full service bar that highlights dozens of regional craft beers and locally-sourced specialty cocktails. Chef's modern Wine Country inspired menu includes freshly prepared sandwiches, salads, and fruit smoothies in a relaxed, social atmosphere. Al fresco pool lounge dining and private cabana rentals provide everything for the perfect day in the California sun!
Hours of operation
Daily, 11:00 am to 5:00 pm (weather permitting)