The Jefferson Hotel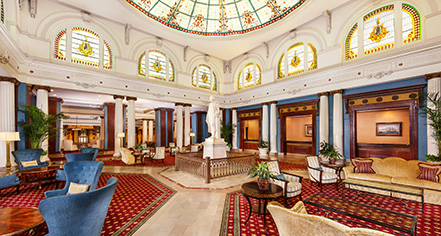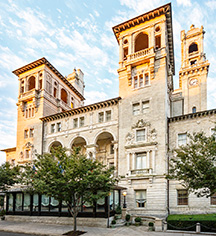 History
Opened in 1895, the Jefferson Hotel symbolized a dream for Lewis Ginter, one of Richmond's most modest and most colorful characters--and Richmond's wealthiest citizen. An estimated $5 to $10 million went into planning, building and furnishing the hotel, with nearly $2 million going toward its three-year construction.
As a centerpiece for the upper lobby, Ginter commissioned Richmond sculptor Edward V. Valentine to create a life-size image of Jefferson from Carrara marble. Ginter imported exotic palm trees from Central and South America and purchased hundreds of valuable antiques. The hotel opened on Halloween 1895 for the engagement party for Charles Dana Gibson and Irene Langhorne, better known as the Gibson Girl.
In 1901 a fire demolished three-fifths of the building. One hundred guest rooms fronting on Franklin Street were intact and reopened in May of 1902, but major reconstruction was required in the portion facing Main Street and the hotel languished for several more years. Then, in 1905, the furniture and accessories were replaced and marbleized columns and Edwardian and rococo touches were added. The Grand Staircase and the Mezzanine, both formerly enclosed behind arched walls, were opened and the hotel expanded to include 330 new rooms in addition to the 100 remaining from the original structure. In May, 1907, the enlarged hotel was reopened.
During World War II, the hotel lodged transient recruits. The stained-glass skylights and windows were taken down not only to conform to blackout requirements, but also to prevent breakage from empty bottles tossed by the rowdy crowds. In March 1944, another fire broke out and soon after the war ended, a gradual decline set in. By 1980 the hotel was closed to everyone except the occasional moviemaker.
Reconstruction began in 1983 and three years and more than $34 million later, the hotel was reopened on May 6, 1986. Layers of paint were removed from walls to reveal mahogany paneling and from exterior columns to uncover pure marble. Original wood and marble floors were cleaned and polished. Items such as hand-carved fireplace mantels, ornate ceiling fixtures, wall sconces, writing tables and assorted bric-a-brac were resurrected. Original oil paintings were taken out of storage.
On July 2, 1991, the Jefferson was sold to Historic Hotels, Inc., a Richmond-based group of investors. In the ensuing decades, the hotel has thrived as a cornerstone of Richmond's social and business life and a luxury travel destination. The hotel recently completed a full reconstruction of its guestrooms and suites, a renovation of all public spaces, and Lemaire restaurant. The future of this legendary property has never looked brighter.

The Jefferson Hotel, a charter member of Historic Hotels of America since 1989, dates back to 1895.
*****
Guest Historian Series
Read more about the history of The Jefferson Hotel, as told by Historic Hotels of America 2014 and 2015 Historian of the Year Stanley Turkel. Excerpt is taken from his latest book Built to Last: 100+ Year-Old Hotels East of the Mississippi (AuthorHouse 2013).