The Jefferson Hotel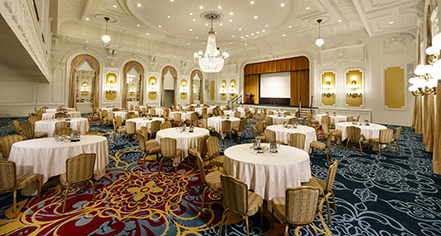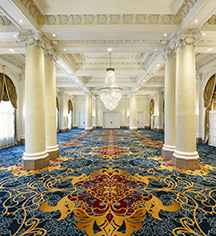 Meetings & Groups
The Jefferson Hotel features nineteen meeting rooms with over 26,000-square-feet of space. Original to the hotel are T he Grand Ballroom, with its gold-detailed ceiling and elaborate crystal chandeliers; The Empire Room, with 30-foot windows and lavish draperies; The Flemish Room, with its high ceilings and abundance of natural light; and The Rotunda, with its opulent ornamentation and monumental faux-marble columns.
The James River Conference Center is a self-contained meeting space constructed from a restored private residence attached to the hotel. This is the perfect setting for smaller groups requiring multiple breakouts and/or groups requiring added security.
Presidential Hallway includes a series of five meeting spaces perfect for breakout sessions or smaller meetings.
Two executive boardrooms offer seating for eight to ten guests in comfortable high-back leather seating with private restrooms and receiving areas.
All of The Jefferson's meeting space is connected to a high-speed wireless network and can accommodate a wide variety of audio-visual equipment and services offered by the in-house audio-visual provider.