The Mayflower Hotel, Autograph Collection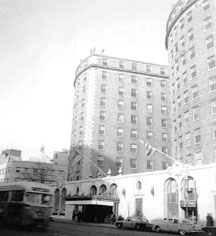 History
Built in 1925, the Mayflower set the standard for elegance and beauty and was quickly considered the "Grand Dame" of luxury hotels among Washington society. When its doors opened, the property had more gold leaf than any other building in the country (save the Library of Congress). Such rich, regal detailing quickly qualified the Mayflower for true presidential importance—every inaugural ball since Calvin Coolidge has been held in the Mayflower′s Grand Ballroom, and the hotel′s rooms and restaurants were fixtures along Washington′s powerful political circuit. FDR used the Mayflower as a retreat to work on his 1933 inaugural address, Harry Truman resided here for the first 90 days of his presidential term—even FBI Director J. Edgar Hoover lunched at the Mayflower nearly every day he was in town. Celebrities, royalty and dignitaries from around the world have been guests of the hotel, including Queen Elizabeth II, John Wayne, Barbara Streisand, Arnold Palmer, Mohammed Ali and many others.

The Depression and World War II ushered in many changes at the grand hotel and the property underwent several remodelings by new owners, covering the hotel′s exquisite gilding, murals, skylights and carvings in "modernization" efforts. Carefully executed renovation in the early 1990s reintroduced the more distinct, historic details and also uncovered two large Edward Lanning murals and a 25-foot skylight blacked out during World War II. Today, many years and several millions of dollars later, The Mayflower Hotel, Autograph Collection has been restored to its original splendor, a prestigious landmark and celebrated tribute to the grandeur, style and history that characterize our nation′s capital.

The Mayflower Hotel, a charter member of Historic Hotels of America since 1989, dates back to 1925.