The Omni Homestead Resort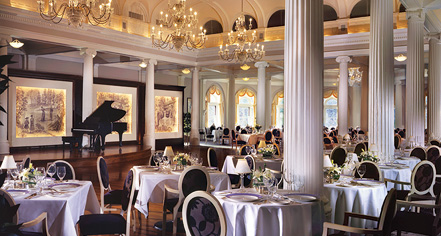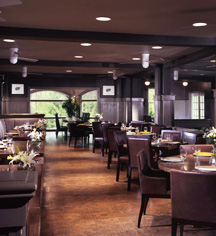 Dining
Boasting a variety of dining establishments, from refined settings to fun, casual dancing, The Omni Homestead Resort offers gastronomic experiences for everyone. Advance reservations for dinner are strongly recommended.
Main Dining Room
Serving classic, continental cuisine infused with regional influences, the Main Dining Room features an elegant setting, showcasing Virginia's refined heritage. Reflecting crisp, clean flavors, the menu selections are thoughtfully-prepared with quality and fresh ingredients from the resort's natural surroundings. Popular seasonal dishes include vine ripe heirloom tomatoes and burrata cheese, freshly prepared lobster bisque, Highland county lamb, Virginian grass fed beef, Allegheny mountain trout, Chesapeake crab, and the gold brick sundae.
Jefferson's Restaurant and Bar
A casual, yet elegant establishment, Jefferson's serves modern, grilled American fare that employs a farm-to-table approach by only using hand-picked prime and regional meats. Indoors or out, the restaurant also offers creative small plates and lighter fare during lunch and dinner.
Sam Snead's Tavern
Blending comfort recipes with modern techniques, Sam Snead's Tavern is a gastro-pub offering a gracious menu complemented by a thoughtfully-selected list of new world wines and regional brews to complement every dish.
Canyon Ranch Café™
Serving exquisitely prepared healthy cuisine with Mediterranean and Asian influences, Canyon Ranch Café™ is a full-service restaurant where guests can savor innovative, nourishing gourmet meals. The menu items include pastas, flatbreads, grilled fish, and many other healthy, delectable dishes that are accompanied by a selection of sustainably farmed wines and craft beers.
Martha's Market
For a quick bite, coffee break, or sweet treat, Martha's Market offers a variety of quality coffee drinks and pastries. Breakfast pastries are available in the morning, and desserts and skillfully prepared signature cakes are served throughout the day along with a selection of sandwiches and salads.
Rubino's
Open seasonally, Rubino's is situated on the Cascades Course and offers a quick lunch service with American golf-inspired comfort food including a full range of salads, hot and cold sandwiches, burgers, and hot dogs along with stunning views of the surrounding valley. The menu will offer a selection of hot and cold coffee beverages, juices, beers, as well as freshly prepared teas.
Lobby Bar
Offering a great selection of signature and classic cocktails, wine, and regional craft beers, the Lobby Bar is conveniently located behind the the Georgian Room where the hotel game room can be found.