The Pfister Hotel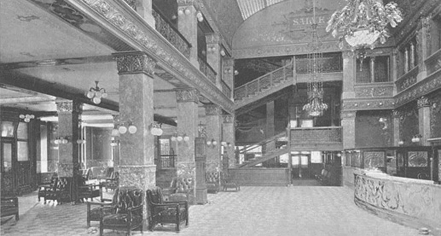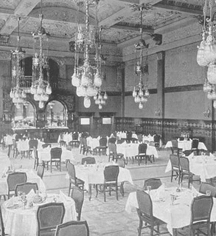 History
The Pfister Hotel was the vision of businessman Guido Pfister and his son Charles and quickly became the "Grand Hotel of the West". Before getting into the hospitality business, Guido Pfister, a German immigrant, originally made a fortune when he began his tanning business in Milwaukee, establishing Guido Pfister Tanning Co., later renamed to Pfister and Vogel Leather Co. For a number of years, Pfister's company was known as one of the largest leather operations in the Midwest. Guido's son and heir to the tanning industry, Charles, played a prominent role in Milauwee's finance world and invested a passionate interest in Republican party politics.
Quickly becoming esteemed successful entreprenures in the Midwest, Guido and Charles Pfister began their endeavor in the hospitality industry with a vision to create a luxury hotel to serve the flourishing mid-19th century economic boom of Milwaukee, fellow thriving businessmen, and dignified visitors.
Opened in 1893, constructed at a cost of over $1 million, The Pfister Hotel was designed by architect Henry C. Koch in a Romanesque Revival architectural style.
The new downtown hotel boasted groundbreaking features such as fireproofing, electricity throughout the hotel, and thermostat controls in every guestroom, instantly establishing a reputation for unrivalled luxury. In addition to modern amenities, The Pfister Hotel afforded a formal dining room, a gentleman's lounge with a private bar, and two billiard rooms, one each for women and men, quickly becoming a popular stomping ground for the Midwest elite. An avid art collector, Charles Pfister displayed much of his collection throughout The Pfister, which remains as the largest hotel collection of Victorian art.
In 1926, admist The Prohibition, Charles opened the modest pub, English Room, where he concocuted a house specality he named Indian Punch, which he had intended to bottle and sell nationwide. Later, in the 1950s, a part of the lobby was sectioned off to establish The Columns, a Roman-themed lounge with a centurion doorman and toga-clad waitresses. The Columns was later renamed Cafe Ole, and remained until the 1193 when the lobby was restored to its original grandeur to celebrate The Pfister Hotel's centennial. Today, the Lobby Lounge offers a relaxing and classic social setting reminicent and awknoledging the historic social scene Charles Pfister concieved.
In 1962, The Pfister was purchased by Ben Marcus with extensive plans to restore the structure to highlight its original glory and expand the hotel, including a new 23-story guestroom tower to provide the latest in luxurious accommodations.
Today, The Pfister Hotel remains a historic gem in downtown Milwaukee offering fine hospitality rich in heritage, spoken with high regard by dignitaries and celebrated guests.

The Pfister Hotel, a member of Historic Hotels of America since 1994, dates back to 1893.