The Pfister Hotel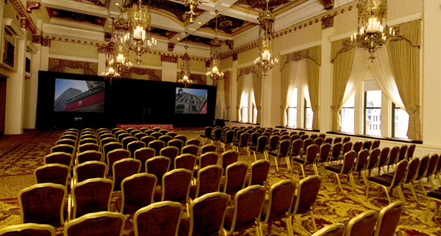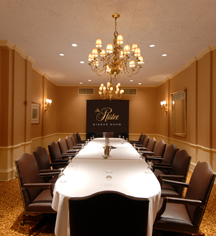 Meetings & Groups
Affording 25,000 ft2 of meeting space and 15 versatile venues, The Pfister Hotel combines rich historic elegance and luxury of Milwaukee's Victorian era with the professional amenities and service of the modern business market.
Beyond the lavish decor and refined interior, which boasts luminous chandeliers, rich fabrics, original Victorian art, and marble accents, The Pfister Hotel meeting rooms are equipped with state-of-the-art technology, including international teleconferencing capabilities, climate controls, blackout draperies, private entrances and group registration areas. The Pfister Hotel partners with American Audio Visual Center, providing an on-site team and inventory to delivery unrivaled technology services to produce successful events.
In addition to the beautiful spaces and the latest technologies, The Pfister Hotel provides a variety of menus to complement every occasion. Using the finest produce and ingredients, the kitchens at the hotel will work with every group to plan a special menu for every event.
Grand Ballroom
Adorned with brilliant crystal chandeliers and Victorian artwork, the Grand Ballroom boasts 8988 ft2 of beautifully appointed space that can accommodate up to 1,000 guests.
Hall of Presidents
Adjacent to the Grand Ballroom, adjoined by the Grand Foyer, the Hall of Presidents affords four identical reception venues: Taft Room, McKinley Room, Roosevelt Room, and Kennedy Room. Popularly used for breakout sessions, the Hall of Presidents can hold up to 50 guests.
Imperial Ballroom
Boasting the distinguished 32-foot high ceiling, the Victorian designed Imperial Ballroom truly gives prominence to the grand elegance and historic tradition that is significant of The Pfister Hotel. The 6,000 ft2 ballroom is a versatile venue, allowing multiple layouts to entertain all types of events.
Kings Row
Adjacent to the Imperial Ballroom, Kings Row features five smaller reception spaces: Empire Room, Charles I Room, Richard II Room, Louis XIV Room, and Henry VII Room. While popularly utilized for breakout sessions, Kings Row rooms can accommodate a variety of layouts.
Mirror Room
Situated in a private corner, on the southern end of the 7th floor conference area, the Mirror Room lends a private setting ideal for high-level executive meetings.
Twenty Three
Sharing the 23rd floor with the celebrated martini bar, Blu, the Twenty Three meeting room is an intimate retreat affording a stately environment and magnificent views of Milwaukee, perfect for distinctive board meetings, receptions, and dinners.
Boardroom 216 and Executive Conference Room
Situated on the second floor, offering a private and quiet refuge, the Executive Conference Room and Boardroom 216. Able to accommodate groups up to 12, these two spaces are perfect for short meetings, business meals, or interviews.
Cafe Rouge
Furnished with resplendent crystal chandeliers, marble accents, and European flavor, Cafe Rouge provides a romantic and elegant atmosphere to entertain lavish dinners and receptions.
Capacity Chart
| | | | | | | |
| --- | --- | --- | --- | --- | --- | --- |
| Room | Area (ft2) | Classroom | Theater | Banquet | Reception | Conference |
| Grand Ballroom | 8988 | 450 | 1050 | 900 | 900 | |
| Taft | 522 | 20 | 50 | 30 | 30 | 25 |
| McKinley | 522 | 20 | 50 | 30 | 30 | 25 |
| Roosevelt | 522 | 20 | 50 | 30 | 30 | 25 |
| Kennedy | 522 | 20 | 50 | 30 | 30 | 25 |
| Imperial Ballroom | 6144 | 200 | 600 | 350 | 350 | |
| Mirror | 544 | | | 20 | 20 | 20 |
| Empire | 406 | 20 | 40 | 30 | 30 | 20 |
| Charles I | 420 | 15 | 40 | 30 | 30 | 20 |
| Richard II | 551 | 20 | 40 | 50 | 50 | 25 |
| Louis XIV | 840 | 35 | 70 | 50 | 50 | 35 |
| Henry VIII | 840 | 35 | 70 | 50 | 50 | 35 |
| Twenty Three | | 40 | 75 | 60 | | 25 |
| Boardroom 216 | 240 | | | | | 10 |
| Executive Conference | 288 | | | | | 12 |
| Cafe Rouge | 2888 | | 75 | 120 | 120 | 35 |