The Pfister Hotel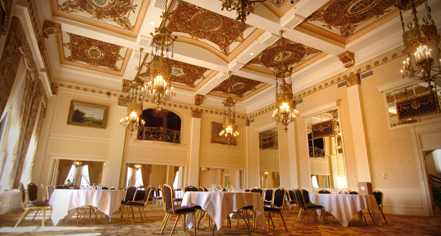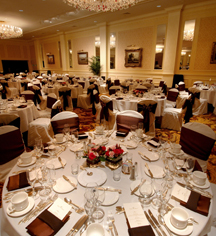 Weddings
Establishing a tradition and reputation of elegance and exquisite service, The Pfister Hotel has hosted over 6,000 weddings for more than 115 years. Intimate or grand, with distinctive architecture, historic fixings, and grand venues, The Pfister Hotel is the ideal romantic backdrop to create an unforgettable wedding.
The Pfister Hotel has a dedicated team of wedding consultants eager to assist in planning every detail of this monumental event. WELL Spa + Salon and The Pfister Hotel's multiple kitchens and dining establishments boast a variety of personalized wedding packages and specials that cater to every celebration. From menus, decorations, the rehearsal dinner, ceremony, or reception, wedding planning will be serviced with the utmost consideration and detail, assuring brides and grooms of The Pfister Hotel a stressful and unforgettable experience.
Venues
A whimsical venue with Old World charm, the Grand Ballroom is adorned with Victorian art, brilliant chandeliers, and sophisticated furnishings. Able to accommodate up to 600 guests, this ballroom offers a versatile space that can be optimized as an expansive dining area with dance floor or a divided intimate gathering for smaller celebrations.
With romantic balconies commanding magnificent panoramic views of the city and its stately 32-foot high ceilings, the Victorian-designed Imperial Ballroom exudes the enchantment of fairy tales and their majestic celebrations boasting the perfect setting for a legendary wedding.
Host to grand affairs for over a century, The Rouge is an elegant historic dining hall affording a distinguished ambiance that treasures smaller private receptions. Thoughtfully-appointed Victorian art, ornate architectural details, and a sophisticated rich heritage commands spectacular occasions at this time-tested venue.