The Red Lion Inn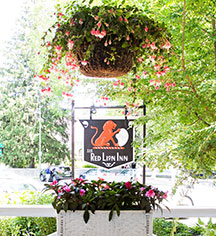 History
According to tradition, Silas Pepoon established a small tavern on the corner of Main Street in 1773, under the sign of a red lion. A year later, angry citizens gathered at Pepoon's to boycott English goods and to pass resolutions protesting the oppressive Acts of Intolerance levied against the colonies. Since its earliest days, the inn was a vital gathering place for locals and has continued to play an important role in the life of the community ever since.
In 1862, the inn was owned by Mr. and Mrs. Charles Plumb, avid collectors of rare and fine items, who became renowned for their impressive compilation of colonial antiques. A fire in 1896 destroyed the building but its remarkable array of collectibles was saved and the inn was rebuilt within a year.
Operating continuously for over 200 years, the inn has had several names but has always been identified by the red lion. The Red Lion's quintessential New England charm was immortalized by Norman Rockwell in his painting Stockbridge Main Street at Christmas.

The Red Lion Inn, a charter member of Historic Hotels of America since 1989, dates back to 1773.
*****
Guest Historian Series
Read more about the history of The Red Lion Inn, as told by Historic Hotels of America 2014 and 2015 Historian of the Year Stanley Turkel. Excerpt is taken from his latest book Built to Last: 100+ Year-Old Hotels East of the Mississippi (AuthorHouse 2013).