The Seelbach Hilton Louisville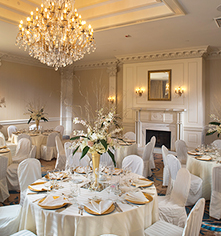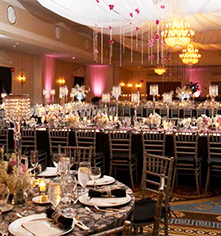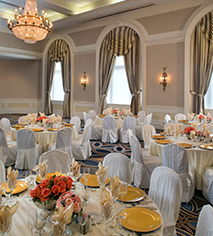 Weddings
Brides are the belle of the ball with a wedding in one of The Seelbach Hilton Louisville's elegant and historic event spaces. Choose the perfect ambiance — from the classic Grand Ballroom, the wedding reception venue captured in F. Scott Fitzgerald's The Great Gatsby, to the one-of-a-kind Rathskeller, made of rare Rookwood Pottery. Southern hospitality and turn-of-the-century décor will create an enchanting environment for the perfect day.
Medallion Ballroom
Turn a wedding into a ball worthy of a princess. As the largest space of its kind in Kentucky, this charming ballroom offers stately elegance and up to 8,678 sq ft feet of space. Located just off the Main Lobby, the Medallion Ballroom features 20-foot ceilings, grand chandeliers, and glamorous gold décor. The ballroom, recently constructed in 1995, provides modern technology, including a state-of-the-art sound system and electronically controlled lighting. The Medallion Ballroom can accommodate up to 650 guests for a sit-down dinner.
Grand Ballroom
Featured in "The Great Gatsby" as the setting for Tom and Daisy Buchanan's wedding, The Seelbach Hilton's Grand Ballroom offers poetic grace and a magical mood. Turn-of-the-century décor in gold and cobalt, crystal chandeliers, and palladium windows overlooking picturesque Louisville will enthrall guests. A t-shaped design with 4,900 sq ft of space is ideal for dancing and socializing. Invite 150 to 250 guests for a refined reception that will live forever in happy memories.
Rathskeller
Constructed of beautiful Rookwood Pottery in 1907, this Bavarian-style work of art, offering 4,200 sq ft of space, is the only room of its kind in the world. Décor includes an arched, red-tinted, terra-cotta ceiling. Tile designs depict walled cities in the Rhenish region of Germany, where the hotel's founders, Otto and Louis Seelbach, were born. For almost 100 years, this room has been an intimate spot for social gatherings. Today, the Rathskeller is the perfect place for a romantic reception of 100 to 150 people.
Mezzanine Ballroom
This Ballroom, built in 1995, is a miniature of the larger Medallion Ballroom, offering 3,400-square feet of space, modern lighting and contemporary décor. This handsome ballroom offers classic style for an intimate wedding of 100 to 150 guests. This ballroom is also ideal for beautiful ceremonies for up to 250 guests with a windowed alcove creating a natural altar.