The Wort Hotel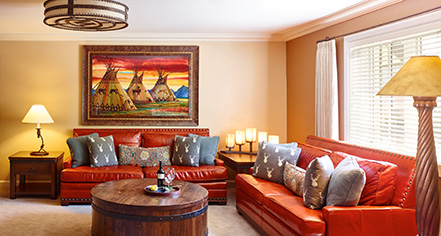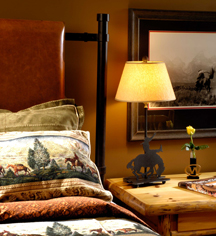 Accommodations
Guests of The Wort Hotel will feel like they have stepped back in time to the wild, wild west of yore. This historic Wyoming hotel offers 55 luxuriously appointed guestrooms, uniquely decorated with custom-made furniture and original art. Five suites have been decorated with a sophisticated Western-theme for guests to indulge in the spirit of the rough and tumble cowboy life. Recent awards include Forbes Travel Guide Four Star, AAA Four Diamond and Condé Nast Traveler Readers' Choice Award.
Explore the Rooms at The Wort Hotel

Deluxe Room: At 350 sq ft, this spacious one-room guest accommodation is available with one king-size or two queen-size beds.
Grand Room: The Grand Room at the Wort Hotel includes a roomy sitting room in 400 sq ft and accommodates either a king-size or two queen-size beds.
Explore the Suites at The Wort Hotel
Jr. King Suite: The Wort Hotel's most spacious one-room accommodation includes one king-size bed in 450 sq ft of space.
Shoshone Suite: A suite richly decorated in Native American imagery includes two king-size beds in two rooms within 700 sq ft of living space.
Teton Suite: Decorated in honor of the Teton Range, this guest suite offers 700 sq ft and one king-size and one queen-size bed.
Cowboy Suite: A two-room, 650 sq ft suite pays homage to the brave cowboys of the early Wild West. Beds include one king-size and one queen-size bed.
Cowgirl Suite: Lest not the brave women of the Wild West be forgotten, this two-room suite features cowgirl artwork and two king-size beds.
Silver Dollar Suite: Touted as the finest accommodation in all of Jackson, this 850 sq ft suite offers guests one king-size bed and spacious living area cannot be missed.
Guestroom and Suite Amenities
Complimentary wireless Internet
Lodge Pole Pine Beds
Goose Down Comforters
Western Fabrics
Custom Media Chests
Executive Refrigerators
Luxurious Bath Robes
Exceptional Bath Amenities
Humidifier
Starbucks® Coffee