The Wort Hotel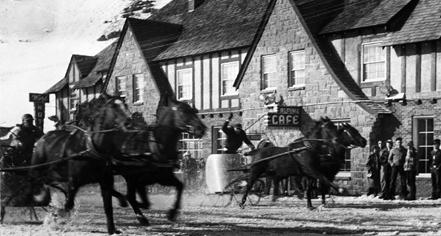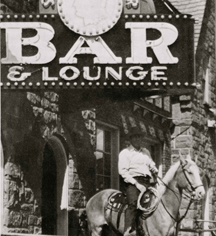 History
The idea for the hotel originated with Charles J. Wort, a homesteader who came to Jackson Hole in 1893. In 1915, Charles Wort bought four parcels of land for $25 per lot in what is now downtown Jackson, Wyoming. The land was adjacent to a livery stable and was used as a horse corral for seven years. From 1932 to 1940, the Wort family operated what is now Signal Mountain Lodge while they began construction on their dream - a luxury hotel in downtown Jackson.
The Wort Hotel was designed by Idaho amateur architect Lorenzo "Ren" Grimmett. The cost of constructing the hotel topped out around $90,000, an investment that inspired great skepticism in the local community. All that subsided when it opened in 1941 and expeditiously became the place to be, for both locals and out-of-towners. In 1950, the Silver Dollar Bar was added, including the famous serpentine bar, built by a German cabinetmaker and featuring 2,032 uncirculated silver dollars from the Federal Reserve in Denver.
Tragically, on the afternoon of Tuesday, August 5, 1980, locals watched in horror as wisps of smoke and flames leaped from the hotel roof. A bird's nest sitting too close to a transformer had touched off one of the worst fires in Jackson history. But only days after the fire, a sign went up saying "We will be back." And so it was. In June 1981, The Wort Hotel reopened.
The Wort Hotel was placed on the National Register of Historic Places in 1999. It has won several distinctions, including the AAA Top 10 Historic Hotel in United States; 2014, 2015, 2016, and 2017 Forbes Travel Guide Four-Star Award; and 2015 Condé Nast Traveler's Reader's Choice Awards "Top 15 Hotels in the West."
A distinctively refined inn located in Jackson Hole, you'll often hear visitors and locals say "Meet me at The Wort!"
View this video to learn more about The Wort Hotel
The Wort Hotel, a member of Historic Hotels of America since 2002, dates back to 1941.