Grab a group of friends and head to a spa resort for a relaxing getaway. Our terrific selection of historic spa hotels can make your next trip extraordinary.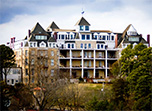 Eureka Springs, Arkansas
Perched above the Victorian village of Eureka Springs, Arkansas -- recognized by the National Trust for Historic Preservation as one of America's Dozen Distinctive Destinations -- is the 1886 Crescent Hotel & Spa, a landmark hotel that echoes the recuperative splendor of the surrounding Ozark Mountain region.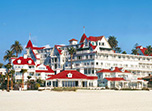 Coronado, California
A living legend for 130 years, Hotel del Coronado celebrates its rich history as a proud host to celebrities, royalty, and beach-loving families through timeless experiences that resonate with modern-day guests. Rated one of the top ten hotels in the world by USA Today, The Del offers a contemporary beachfront experience, ocean view dining, an award-winning spa, upscale shopping, and a variety of recreational activities.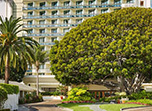 Santa Monica, California
The award-winning Fairmont Miramar Hotel & Bungalows is the epitome of Southern California style, elegance, home-like comfort, and beach life. Serving the Santa Monica area since 1921, the Fairmont Miramar was once a mansion owned by former U.S. Senator John P. Jones, who is also the founder of Santa Monica.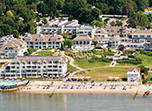 Westbrook, Connecticut
For over 30 years, Water's Edge Resort and Spa has kept its presence as a top New England beachfront resort for vacations and getaways. Originating from the vision of humanitarian Bill Hahn, the resort has jovial beginnings. With an obvious love for people and an appetite for fun, Hahn was dubbed the 'host with the most,' known for showing his guests a good time and providing a beachfront refuge from the hustle and bustle of city life.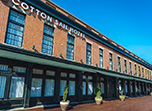 Savannah, Georgia
The Cotton Sail Hotel stands in the heart of the historic district of Savannah, Georgia. This full-service boutique hotel is housed in a cotton warehouse from the 1800s. Opened in 2014, The Cotton Sail Hotel is tastefully decorated with dark woods, accented by beautiful art, and brightly illuminated. Guests can enjoy breathtaking views of the city from the stunning rooftop bar and lounge, the only one with balcony access in the city.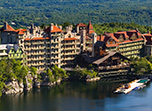 New Paltz, New York
In 1869, rocky cliffs rising above a crystal blue glacial lake in the Hudson River Valley inspired Albert Smiley to create Mohonk Mountain House as a resort where guests could renew body, mind, and spirit in a beautiful natural setting. Now, over 140 years later, it is still owned and operated by the Smiley family.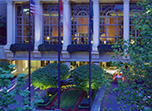 Seattle, Washington
The recently renovated Fairmont Olympic Hotel has redefined downtown sophistication in Seattle, Washington. Open since the 1920s, this hotel has almost a century of service under its belt and has a reputation to match. Celebrating its inauguration with a grand ball, the Fairmont Olympic has continued the tradition of treating every moment like that first night - with impeccable service, attention to detail, and pride.
Spa Resorts
Your search returned 293 results.