1886 Crescent Hotel & Spa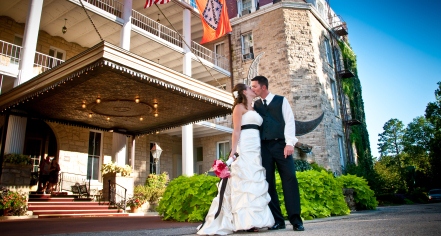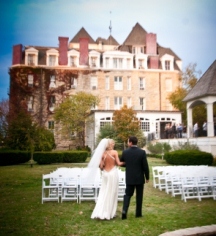 Weddings
Nostalgic.. Romantic .. Memorable
Eureka Springs Arkansas has become one of the nation's leading wedding destinations for many reasons. One is the fact that Thorncrown Chapel is sculpted into the forested landscape of The Ozarks here in Eureka Springs AR. Another is that Eureka Springs is legendary for its sense of romance, a place like no other. But perhaps the most compelling reason for Eureka being the "Wedding Capital of The South" is that beautiful brides can proudly invite their friends and family to their special event inside a castle. The 1886 Crescent Hotel and Spa is a four-story, Victorian-style resort created from blocks of native limestone atop one of the highest point in all of the Arkansas Ozarks, a castle in the truest form. Picturesque and picture perfect… the ideal setting for your special wedding event.
Garden Ceremonies
The 1886 Crescent Hotel sits atop an Ozark mountain on 15 acres of land. Some of the estate has been left pristine and forested for brides planning a smaller wedding and wanting a more natural setting. But the acres closest to the hotel are reserved for the fountain garden to accommodate 350 guests and are kept professionally manicured by the staff horticulturist and her staff to reflect the flora of the season ensuring that any Crescent wedding or reception held out of doors is amid the glorious grandeur of nature at its finest
Grand Receptions
With reception sites that include the grandest room in the Ozarks (the Crystal Ballroom) to the most beautiful (the Crescent Conservatory), brides can choose a room or outdoor site with wedding tent pairs perfectly to their fairytale dreams and expectations. The Crystal Ballroom with its fourteen (14') foot ceiling and oak floor is the largest of spaces, the East Lawn is an outdoor location where you are the center of attention and the Crescent Conservatory is the most special, built especially for brides with white walls and big windows.
Keep Those You Love Close By During Your Event
There is nothing more special than having those you love nearby in the days surrounding your dream wedding. Your invited guests, family and friends will be able to conveniently stay on the same estate with you and your wedding party. A block of Crescent rooms can be set aside inside the hotel specifically for your wedding party or a family cottage may be reserved in Crescent Park at one of the Crescent Cottages or Lookout Cottages.