21c Museum Hotel Cincinnati by MGallery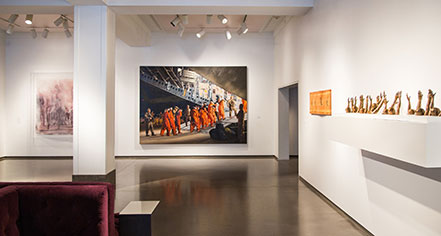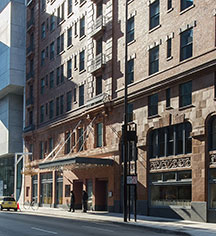 History
The chic 21c Museum Hotel Cincinnati by MGallery was once the historic Hotel Metropole. Constructed in the early 1910s, the hotel emerged at a time when urban growth in downtown Cincinnati was flourishing. As businesses appeared with great frequency throughout the city, a local attorney named Joseph C. Thoms saw a wonderful opportunity for economic success. Noticing a lack of upscale hotels in Cincinnati, Thoms decided to create his own luxurious venue. He hired the reputable architectural firm Joseph G. Steinkamp & Sons for the project, who subsequently designed the nascent hotel with Neoclassical aesthetics.
Christened as the "Hotel Metropole," Thoms's fellow Cincinnatians were awestruck by his luxurious, ten-story establishment when it debuted on New Year's Eve in 1912. The excitement over the Hotel Metropole was so great that close to 800 people arranged to attend its grand opening. Of particular interest among guests at the time were its beautiful ballroom, sumptuous dining room, and massive staircase. The hotel maintained its status a prestigious holiday destination for the next several decades, even after Thoms passed away in 1922. His daughter, Eunice—who took over the business upon his death—even had to add an additional 11th floor to meet the burgeoning demand for the building's accommodations.
But this prosperity did not last forever. By the 1970s, visitation to the Hotel Metropole had declined so significantly that it was forced to close for good. In 2009, however, the Cincinnati Center City Development Corp purchased the building following its listing in the National Register for Historic Places. It subsequently allowed for 21c Museum Hotels to transform the site back into an active hotel. Founded on the premises of making hotels their own cultural attractions, 21c Museum Hotels incorporated its own exhibitions of contemporary art into the erstwhile Hotel Metropole. Inside, guests encounter galleries filled with sophisticated artwork, including its own special collection entitled, Illuminati.