21c Museum Hotel Lexington by MGallery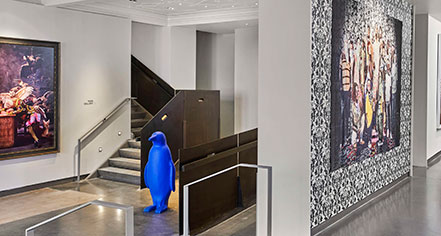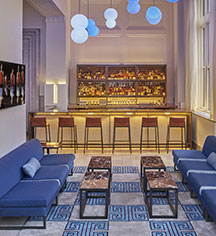 History
The origins of the historic 21c Museum Hotel Lexington by MGallery date back to the early 1900s, when the preeminent Fayette National Bank constructed for itself a grand headquarters in downtown Lexington. Founded in 1870, the Fayette National Bank had emerged as a dominant financial institution in central Kentucky by the beginning of the twentieth century. Yearning for a place to do business that could properly reflect its prestigious reputation, the company decided to demolish its original bank for a more modern one. The Fayette National Bank subsequently hired the illustrious, New York-based architectural firm, McKim, Mead & White, to oversee its ambitious construction project. Highly-regarded for its distinguished portfolio, McKim, Mead & White would soon add another feather to its cap when it began designing the new Fayette National Bank Building. Using a stunning array of Beaux-Arts Classical, Imperial Roman, French Renaissance, and Baroque design elements, the skyscraper was an architectural masterpiece upon its completion in 1914.
The Fayette National Bank operated out of the towering edifice for the next several decades, even after the company was consolidated into the First National Bank amid the Great Depression. By the century's end, the building had ceased operating as a bank. But thanks to the concern of Laura Lee Brown and Steve Wilson—the visionary founders of 21c Museum Hotels—the structure became alive once more. Recognizing its inherent beauty and historical significance, Brown and Wilson transformed the erstwhile bank into a boutique hotel in 2012. Debuting four years later as the "21c Museum Hotel Lexington," the venue quickly became renowned for its unique guest experience. Despite its formal role as a hotel, the building also functions as a contemporary art gallery that immerses its visitors with thought-provoking innovative artwork. Now listed in the National Register for Historic Places, Brown and Wilson have been honored to share this amazing place with travelers from across the world. Due to their tireless commitment, they successfully recast the building as both a glorious holiday destination, as well as a respected local cultural center.
21c Museum Hotel Lexington by MGallery, a member of Historic Hotels of America since 2019, dates back to 1914.