Historic Hotel Bethlehem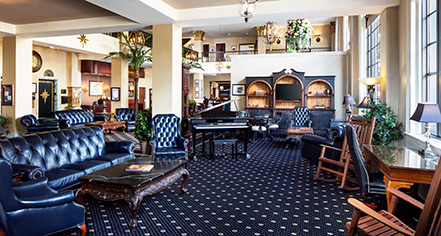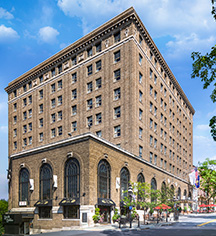 Ghost Stories
When considering a hotel as rich in history at the Historic Hotel Bethlehem, it should come as no surprise that some of the rooms may be haunted. This historic Pennsylvania destination has approximated four ghosts, three of whichhave been identified. Perhaps a future visitor can help identify the fourth.
Learn about the Hotel Bethlehem's resident ghosts
May Yohe - Lady Francis Hope, Victorian actress and singer (1866-1938)
Born Mary Augusta Yohe at the Eagle Hotel, she was the grandaughter of Caleb Yohe, the proprietor of the hotel. There are recorded accounts of May singing and dancing for all the guests in the hotel lobby. the Moravians were so impressed by her talents that they pooled all their money together to send her to Paris for formal training in the operatic arts.
She was definintely worth the investment, as she went on to make headlines across the country in 1888 as one of the biggest stage stars. She was also making headlines for some of her lascivious affairs.
In the 1890s, she went on to England to perform for Queen Victoria's son, Prince Edward. He loved her singing. In England, she met Lord Francis Clinton Hope, a wealthy man, and married him. He bestowed upon her, the very famous, Hope Diamond, which she wore a number of times. However, the marriage didn't last and by the end of the century, she was back in the papers about her divorce and her new romance with an American soldier. The romance didn't work out with the soldier either. He stole her jewelry and they divorced years later.
Needless to say, she was not lucky in love and it is said that her happiest times in life were as a child singing for guests in the lobby of the hotel. The player piano often turns of by itself and it is said to be her. She has also been spotted on the 3rd floor exercise rooms and in the lobby.
Francis "Daddy" Thomas, Bethlehem's Town Guide, (1732-1822)
Francis was born in Germany, but moved to the Colonies when he was 6 years old. He was deeply influenced by Moravian Bishop Spangenberg. As a younger man, he was known for having a total disregard for danger. He worked as a courier and didn't let several brushes with death stop him from doing his job. All these incidents had to do with the danger of riding a horse. Once, he was thrown from his horse so hard that he broke his neck and he was brought home for dead. But he somehow survived.
Eventually, he settled down with a less life threatening job as a cabinetmaker and married a woman by the name of Anna Graeff. They were married for 53 years and didn't have any children of their own, but they happily raised three children of the missionary, send to Bethlehem to be educated at the famous girl's Seminary.
He had the respect of everyone he came into contact with due to his hard work, his honesty and faithfulness. He found his true calling in life in attending to visitors to Bethlehem. After his death, it is rumored that he still attends to Bethlehem's visitors and guests. He has been seen around the Boilet Room of the hotel.
Mrs. Brong Landlord
In 1833, the Moravian Church still owned the Eagle Hotel. They decided to terminate the landlords, Mr. and Mrs. Brong after a short six months.
They realized that Mr. Brong was a bit of an alcoholic when he would join any guest who would request his presence for a drink. When he got too drunk to sit any longer, the bartender would often move him to a nearby bench.
Mrs. Brong, who seemed like the perfect hostess, had a nasty habit of not wearing her shoes or stockings. This was a terrible shock to those just arriving and realize that they were being greeted by the vulgarity of her "pedal extremeties completely exposed!".
Kitchen staff and dinner guests have often spotted a woman in period clothing walking around with no shoes or socks. Mrs. Brong is primarily in the Kitchen/Restaurant area of the hotel.
Room with a "Boo", Room 932
There have been many strange reports of haunted occurances happening in room 932. A couple staying there reported that they were awoken by a man standing in front of their bed asking "Why are you in my room?" As soon as they turned on the light, he was gone.
There have been other accounts of seeing a reflection in the mirror that are gone a second later, lamps flashing, papers flying off the desk or standing upright, and even the bathroom wallpaper turning pink. The hotel has many pictures from guests where "orbs" appear in room 932.
In April of 2007, Hotel Bethlehem invited a paranormal investigator to stay overnight in the room. He recorded many voices: 'It's Mary.", "What a beautiful bathroom.", "I've locked myself in the closet", "Look out the window."
Even the supernatural agree that the view outside our rooms is spectacular. However, due to the age of the hotel, unexpected visitors and activities of the paranormal kind can happen. Room 932 is most popularly requested room. Book properly in advance to experience some of the spooky magic.