Historic Hotel Bethlehem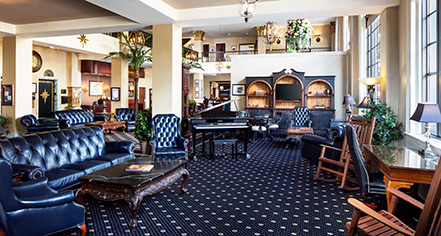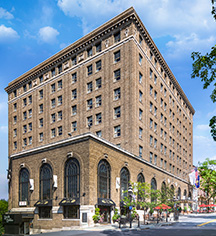 History
During the Prohibition in 1922, Charles M. Schwab built the Historic Hotel Bethlehem as it's known it today. However, that little spot in the town of Bethlehem has a history with deep roots.
In 1741, a group of Moravian missionaries built, on that very spot, the famous First House of Bethlehem. It was a log house, built to shelter the Moravians as they expanded their presence in the area. The structure also served as a stable. On December 24, 1741, the leader of the Moravian missionaries, Count Nicholas Von Zinzendorf, sang a song about Bethlehem, which inspired the citizens to name the town.
The Moravians were very dedicated to their mission. Using this spot as a home base, they started "schooling the unschooled" and converting the "heathen" indigenous people. The Moravians were so passionate and dedicated that within 20 years, they had built 50 more buildings and were working on several different industries. All from within the structures they had built.
In the late 18th century, under the first presidency, George Washington, the First House of Bethlehem was converted to the Golden Eagle Hotel. The hotel operated in this incarnation until 1919, when the building started housing convalescing soldiers returning from World War I.
In 1922, Schwab's fortune was on the rise and he was one of the stars of American Steel. Schwab built the hotel to cater to the clients of the enormous Bethlehem Steel Company and even back then, it featured amenities equivalent to modern day luxuries, such as, a fitness center, a barber shop, shoe shine, and coffee shop.
Nowadays, the Historic Hotel Bethlehem proudly displays its story in its lower lobby's Hall of History. Artifacts from the town's history (religious settlement to industrial boomtown) such as photographs and printed materials are showcased as well. A 1936 George Gray painting located in the Mural Room depicts the transformation of the culture surrounding the building.

Historic Hotel Bethlehem, a member of Historic Hotels of America since 2002, dates back to 1922.