Hotel Monteleone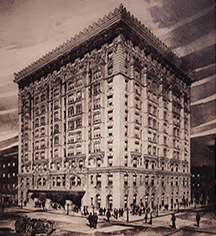 History
Antonio Monteleone was an industrious nobleman with a successful shoe factory in Sicily when he caught hold of the American dream. He arrived in 1880 and opened a small cobbler's shop on Royal Street. Six years later, he bought a 64-room hotel on the corner of Royal and Iberville Streets. Since that time, four generations of the family have dedicated themselves to making sure the hotel remains the sparkling jewel of the French Quarter.
There have been five major additions to the hotel, the first being a 30-room addition in 1903. The next occurred in 1908, during a time of financial panic in the United States, when 300 more were added. In 1913, Antonio Monteleone passed away and was succeeded by his son Frank who added 200 additional rooms just prior to the Great Depression. The Hotel Monteleone was one of the few family-owned hotels in the country to weather the financial downturn and it remained unchanged until 1954. That year, the fourth addition required the razing of the original building and the foundation was laid for a completely new building that included guest facilities, ballrooms, dining rooms and cocktail lounges.
In addition to its status as an Historic and Literary Landmark, the Hotel Monteleone is also home to more than a dozen ghosts. These earthbound entities are a mix of former employees and guests, all of whom enjoy Hotel Monteleone's legendary service so well, they have declined to check out. For years, employees and guests of the have enjoyed friendly interaction with the spirits--most reports involve sightings, but some detail benign mischief like opeing doors and moving soap.

Hotel Monteleone, a member of Historic Hotels of America since 1999, dates back to 1886.
*****
Guest Historian Series
Read more about the history of Hotel Monteleone, as told by Historic Hotels of America 2014 and 2015 Historian of the Year Stanley Turkel. Excerpt is taken from his latest book Built to Last: 100+ Year-Old Hotels East of the Mississippi (AuthorHouse 2013).