InterContinental Mark Hopkins Hotel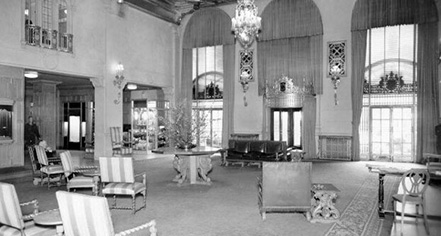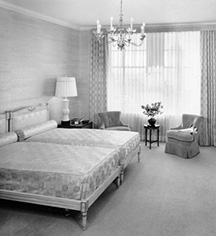 History
"Every important city in the world boasts of one or more hotels that give prestige to the community, hotels that cater to discriminating travelers. The Mark Hopkins was built for this purpose." This statement is every bit as true today as when it was first made by world-renowned hotelier Pierre Bultinck, who became the managing director of the hotel during the 1950s. With an extensive restoration, the famed Mark Hopkins highlights its historic grandeur and secures its place among the most prestigious hotels to be found in the city of San Francisco.

Opened in 1926, the hotel is located at Number One Nob Hill on the site of the former 40-room mansion of Mark Hopkins, one of San Francisco's "Big Four" who founded what became the Southern Pacific Railroad. Hopkins built this grand house at the insistence of his socialite wife, Mary, but died before the house was finished in 1878. Destroyed by the 1906 earthquake and fire, the mansion was replaced by a more modest structure built by the San Francisco Art Association (now known as the San Francisco Art Institute), who received the property from Mary Hopkins' second husband, bequeathed upon his death in 1893. In 1925, mining engineer and hotel investor George D. Smith who had long admired the site, bought it and built a luxury hotel, which he opened on December 4, 1926. Upon completion, San Franciscans declared it "architecturally perfect, flawless in its erection, comprehensive in its accommodations… strikingly representative of the best there is in modern hostelry."
The Mark Hopkins became an immediate part of San Francisco's rich and colorful history and continues to hold its place in the city today. Events such as the meetings for the historic founding of the United Nations in 1945 took place at the Mark Hopkins. Royalty, statesmen, political personalities and celebrities with backgrounds as diverse as the places they come from have stayed at the Mark Hopkins since it opened, including five American presidents and heads of state from around the world. Locals and visitors alike come to visit the Top of the Mark, the 19th-floor sky-lounge atop the hotel, with its panoramic views of the ever-changing San Francisco Bay Area landscape.

InterContinental Mark Hopkins Hotel, a member of Historic Hotels of America since 2011, dates back to 1926.