La Fonda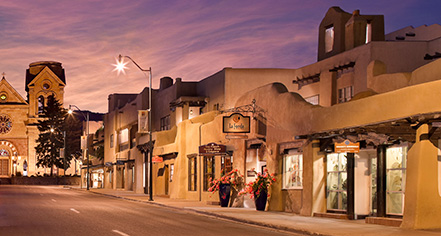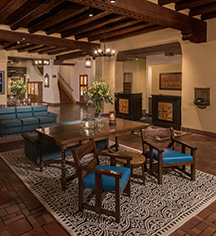 Overview
La Fonda is a Santa Fe landmark, just steps away from history and art museums, a variety of galleries and shops, historic churches and, of course, the Plaza. The historic inn's Pueblo-style architecture features thick wood beams, latilla ceilings and carved corbels. Special touches such as hand-crafted chandeliers, tin and copper lighting fixtures, and colorful tiles add character and charm. Beautiful hand-carved and hand-painted furniture and displays by local artists create a rich ambience. La Fonda has always been a local gathering spot and a hub of activity. World War II journalist Ernie Pyle wrote, "You could go there any time of day and see a few artists in the bar…a goateed gentleman from Austria or a maharajah from India or a New York broker… You never met anyone anywhere except at La Fonda."
Read: Ghostly Encounters at La Fonda on the Plaza by Lauren Walser, National Trust for Historic Preservation
La Fonda, a member of Historic Hotels of America since 1991, dates back to 1922.
In 1925, the hotel was purchased by the Atchison, Topeka & Santa Fe Railroad and operated as one of the famed Harvey Houses.
Original Property Opened: 1922
Historic Hotels of America toll-free reservations number +1 800 678 8946

Location
100 East San Francisco Street
Santa Fe, NM 87501

Check-in time: 3:00 p.m.
Check-out time: 12:00 p.m.



Hotel Amenities & Policies
Accessible Rooms: Accessible rooms are available. Please notify request at time of booking.
Adjoining Rooms: Adjoining rooms are available. Please notify request at time of booking.
Age Requirements: Guests are required to be 18 years or older with photo identification to reserve a room and check-in.
ATM
Cancellation Policy: Cancellations must be made 72 hours prior to arrival.
Cribs and Pack-in-Plays: Not available.
Deposit: Credit card deposit required upon check-in.
Early Check-In/Late Check-Out: Available, depending upon availability.
Extra Person Fees: Extra-person charges may apply and vary depending on property policy.
Hotel/Resort Fees & Taxes: Additional fees and taxes may apply.
Occupancy Restrictions: Varies by room type.
Parking: Self-parking: Available, $20 per night Valet parking: Not available
Payment: All forms of payment are accepted. Payment is required at time of booking. Visa, MasterCard, Amex, Discover, and Diners Club International are accepted.
Pet Policy: Service animals allowed: Yes. Pets allowed: Yes. Restrictions: Maximum amount: 40 lbs. Fees: $50 per night.
Rollaways: Not available.
Smoking Policy: Non-smoking property.
The above list may not be comprehensive and information is subject to change without notice. Fees and deposits may not include tax. Taxes, fees, deposits, and policies are subject to change without notice.
Image Credit: ©Rashad Ashurov/Shutterstock
The Jazz Age, 1919 ~ 1928
La Fonda is a Santa Fe landmark, just steps away from history and art museums, a variety of galleries and shops, historic churches and, of course, the Plaza. The historic inn's Pueblo-style architecture features thick wood beams, latilla ceilings and carved corbels.
Learn more about the History of La Fonda .