La Fonda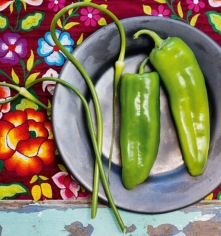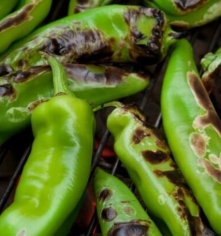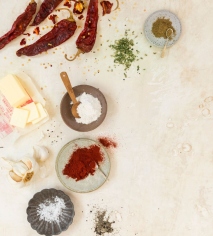 Fred Harvey's Chile Rellenos
Then: Fred Harvey Chile Rellenos Recipe from La Fonda - Served Since 1926
Fried Stuffed Chili
Ingredients
6 green chili peppers roasted and peeled.
Instructions
Peel carefully so as not to destroy the whole chili.
Cut the large end for opening.
Fill the chili with a mixture like the chicken for Tacos.
Roll the filled chili in flour, then in beaten egg, and fry brown in butter.
Serve with Salza or Chili con Carne.
****
Now: Chef Lane Warner, La Fonda on the Plaza™
Ingredients
8 Hatch green chiles, roasted and peeled
For Cheese
8 oz Chihuahua cheese
8 oz Asadero cheese
1/2 cup half & half

Mix until smooth and creamy, place in pastry bag and fill chiles.
For La Fonda Beer Batter
7.5 oz flour
1 Tbsp baking powder
1/2 Tbsp sugar
1/2 Tbsp salt
1 tsp white pepper
1 tsp paprika
12 oz beer
1 whole egg
24 oz peanut oil for frying
Instructions
Mix the dry ingredients together, add the beer and egg yolk, and mix until smooth.
Lightly coat rellenos with batter and fry at 300° until golden, brown, and delicious.
Serve with your favorite red or green chile, topped with Chihuahua cheese and melted.