La Posada de Santa Fe, A Tribute Portfolio Resort & Spa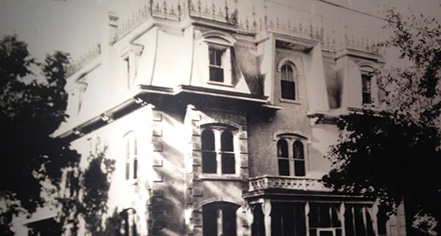 History
La Posada de Santa Fe, A Tribute Portfolio Resort & Spa is located in the heart of the culturally and historically rich city of Santa Fe, New Mexico. The origins of this resort date back to 1882, when a German immigrant named Abraham Staab built a three story brick mansion in the French Second Empire-style for his wife Julia and their children. A prosperous family of merchants, the Staabs had been drawn to Santa Fe at a time when many migrants from Europe relocated to the American Southwest due to the region's lucrative economic prospects. The Staabs spent many years entertaining both national dignitaries and members of Santa Fe's high society within their grand mansion.
After a period of fluid ownership that began during the early 1900s, Harold and Eulalia Nason acquired the mansion in 1936. Along with the Staab Mansion, the Nasons purchased six acres of land containing Spanish colonial structures from the Baca family. The Nasons decided to develop these buildings into a unique holiday retreat. The Nasons then constructed a series of Pueblo Revival-style lodgings around the mansion with the same kind of materials used exclusively by the region's Native American population several centuries prior. They named the hotel "La Posada," Spanish for "inn" or "resting place." The elegant complex brilliantly embodied the historic, multicultural character of Santa Fe, making it a popular gathering place for locals and visitors alike.
La Posada became one of Santa Fe's most preeminent vacation getaways, even after the Nasons sold the business in 1974. The hotel continued to evolve over the next several decades, eventually becoming a massive resort when its new owners added an extensive array of additional facilities in the 1990s. This ambitious renovation project added several accommodations, a world-class spa, and a spacious conference center. Situated within the illustrious Santa Fe Historic Plaza—a National Historic Landmark—La Posada has since been among Santa Fe's most sought-after destinations.
La Posada de Santa Fe, A Tribute Portfolio Resort & Spa, a member of Historic Hotels of America since 2019, dates back to 1882.