Phantom Ranch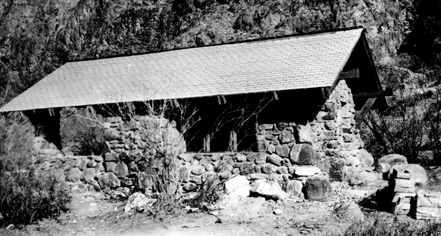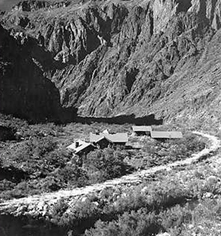 History
Near or around 1050 – The site where the ranch is now located was used by Native Americans; pit houses and a ceremonial kiva have been found there.
1869 – The earliest recorded visit by Europeans. John Wesley Powell and his company camped at its beach.
1890 – Prospectors arrived at the area using mules to haul their ore.
Turn of the 20th century – Founders of the Grand Canyon Transportation Company began a project to capture its tourism potential; they hired a crew to improve the trail from Phantom Ranch to the Canyon's North Rim.
1913 – President Theodore Roosevelt traveled down the canyon to the camp during a hunting expedition; in honor of this visit, the site became known as Roosevelt Camp.
1919 – Grand Canyon incorporated into the National Park Service.
1922 – Mary E J Colter completes design of Phantom Ranch.
1924 – A Delco light plant supplied electricity to Phantom Ranch. Showers and toilets were added.
1933 – The Civilian Conservation Corps established Camp 818. Employees of the camp planted cottonwood trees and added irrigation ditches to water the trees. They built a swimming pool near the ranch recreation hall and built improved trails.
1964 – Easter visitation to the park causes National Park Service to institute a permit system for overnight stays at Phantom Ranch.
For more information about Phantom Ranch or to make reservations please visit grandcanyonlodges.com/phantom-ranch or call 1.888.29.PARKS (888.297.2757).



Phantom Ranch, a member of Historic Hotels of America since 2012, dates back to 1922.