The DeSoto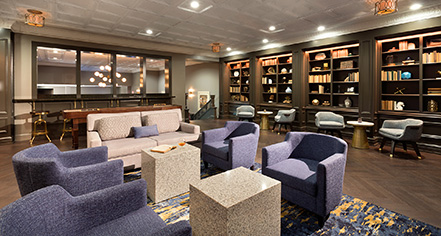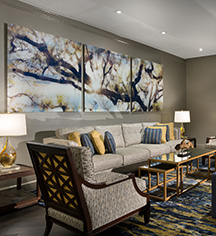 History
The DeSoto has been built and rebuilt several times before the current version was built in 1968. The first iteration was built in 1834 on the original site of the Oglethorpe Barracks, which despite the name, never housed U.S. troops.
In 1879, Oglethorpe Barracks was purchased by the Savannah Hotel Corporation, which developed a luxury resort hotel on the site to attract tourists on their way to Florida. The 300-room hotel opened on New Year's Day in 1890, complete with a swimming pool, lighted miniature golf course, Solarium, soda shop, and barbershop. The luxury Hotel DeSoto was regarded as one of the finest examples of "modern" building, catering to America's new leisure activities and becoming a local community resource. It was known as the 'Dowager Empress of the South' and was truly the center of Savannah's social life. The original DeSoto closed its doors with a 75-year New Year's Eve Diamond Jubilee Ball in 1965, sponsored by the Savannah Symphony Women's Guild.
Following the two World Wars, Americans' needs and way of life began to change. A morphing American society wanted a new type of "ornament" in downtown Savannah. The new owners of the hotel decided to replace the old DeSoto to make way for the new Hilton Savannah DeSoto, meeting the needs of modern guests while preserving the touches of its revered history. Designed by Richard L. Aeck of Atlanta, one of the country's leading architects at the time, the hotel officially re-opened in 1968 and featured a 15-story brick building, with 264 guestrooms and suites, underground parking, a bank, and an office park. A number of details from the original Hotel DeSoto were preserved and built into the new hotel, such as pieces of terra cotta, wrought iron details, a fountain featuring the head of a lion with water flowing out its mouth, and crystal chandeliers in the lobby.
The year 2017 marks the dawn of a new era for The DeSoto. The hotel underwent a $9.4 million renovation with a rebranding and a return to its roots as The DeSoto by Sotherly, an independent luxury hotel on August 1, 2017.
Still the center of Savannah's social life and ideally located in the center of historic Savannah, guests can enjoy all that the city has to offer at their footsteps. The grand lobby entrance with glimmering crystal chandeliers and southern hospitable service greet all guests. Through the lifetime of The DeSoto, it had the privilege to host many guests, from several US presidents to musicians and actors, such as Elvis Presley, BB King, Katherine Hepburn, and Gregory Peck.

The DeSoto, a member of Historic Hotels of America since 2017, dates back to 1890.