The Gasparilla Inn & Club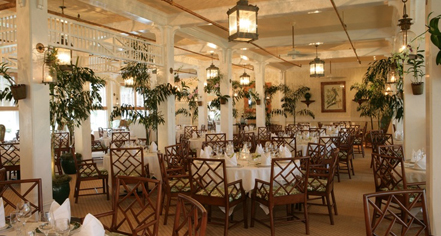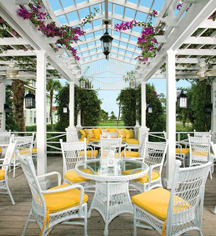 Dining
The Gasparilla Inn & Club features a variety of dining options, all overseen by renowned Executive Chef Peter Timmins, one of only 60 Certified Master Chefs in the world, the highest and most demanding level of culinary achievement of American Culinary Federation certification levels. Chef Timmins also received a fellowship from the Epicurean World Master Chefs Society; a Doctorate from Johnson & Wales University for his successes and contribution to the Culinary Arts; and numerous gold medals at culinary Olympics and competitions around the world. Whether you are looking for an elegant dining experience or a casual meal, Chef Timmins and his talented culinary staff bring a distinctive flair to each dish, ensuring absolute satisfaction with every meal.
The Main Dining Room
The Gasparilla Inn's Main Dining Room offers a picturesque setting for breakfast or dinner and is open to both Inn guests and the public seasonally. Offering breakfast daily and a four-course, heritage dining experience for dinner, menus include modern preparations and presentations of classic dishes, with a particular focus on showcasing local ingredients. Featuring an exceptional wine selection, The Main Dining Room has been awarded the Wine Spectator's magazine "Award of Excellence" for the third year in a row.
BZ's Lounge
An enjoyable option for cocktails at The Gasparilla Inn & Club is the relaxing BZ's Lounge, adjacent to the main lobby of The Inn, where favorite beverages are available from mid-afternoon to late evening every day during the operating season of the resort.
The Pink Elephant
For a charming casual lunch or dinner, The Pink Elephant, affectionately known as "The Pink", has been known for its menu of signature seafood, American classics and signature cocktails for more than 60 years. Experience genuinely friendly service and a relaxed, unpretentious atmosphere year round at The Pink, located a short leisurely walk from The Inn, on the bayou of Boca Grande. Complimentary dockage is available for boats.
The Beach Club
Located directly on the Gulf of Mexico, The Gasparilla Inn's private Beach Club serves beverages poolside, on our own beach, and also offers delightful daily luncheons. During the holiday seasons enjoy Sunset at the Beach Club, with live music, cocktails and a light fare dinner.
The Inn Bakery
The newest addition to The Gasparilla Inn, The Inn Bakery, features a variety of coffees, breakfast pastries, sandwiches, desserts and other tasty treats. The Bakery is open year round, daily, and is located a few blocks from The Inn, in the village of Boca Grande.
The Outlet
For a casual dining experience on the water, on Gasparilla Island, enjoy breakfast or lunch at The Outlet Restaurant. Located at The Innlet on the Waterfront, in Boca Grande, enjoy your dining experience indoors or outdoors along the bayou on the waterfront patio. Daily specials offered on breakfast and lunch items and both are served all day, year round.