The Gasparilla Inn & Club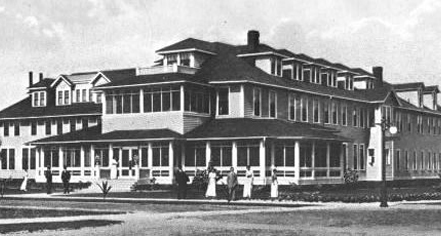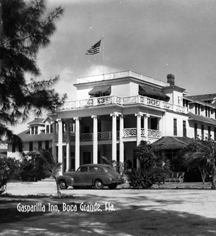 History
The Gasparilla Inn takes its name from the legendary Spanish traitor-turned-pirate who buried his treasure somewhere in the island's keep, never to be found. We know that at least part of this story is untrue. People discover the island's bounty daily and always have. Ever since the Calusa Indians first fished off these shores a thousand years ago, the island has been known for its natural riches.
Like other islands in Florida's southwest archipelago, Gasparilla Island attracted fish ranchers in the 1870s. Here, huge catches of mullet and other fish would be packed on ice and shipped off to hungry mainlanders. Descendants of those fishermen still fish the local waters daily, and the concierge of the Gasparilla Inn will be happy to help arrange a trip. In fact, Gasparilla Island offers today's fishermen the sport of catching one of the world's most prized game fish, the tarpon. One such hapless tarpon you'll find mounted above the fireplace in the Gasparilla Inn's Pelican Room.
The island's southern-most tip, named Boca Grande, or "big mouth" for the shape of the natural port there, was one of Florida's deepest natural waterways. Boca Grande was ideally positioned to capitalize on what would become one of industry's great natural discoveries. In 1885, The American Agriculture and Chemical Company found phosphate rock just east of Gasparilla Island across Charlotte Harbor. A natural cleanser used in many detergents and other products, phosphate became a top ingredient. Initially, the company barged phosphate from its mainland source to Boca Grande, then shipped it elsewhere from there. But by 1905, a more efficient plan was hatched. A railway would replace the barge.
With this engineering marvel came genuine industry and some of the greatest names in American business, including the Vanderbilts, Rockefellers and DuPonts. Seeing the potential to build the village beyond the port, the American Agriculture and Chemical Company began to develop the village itself, erecting the first hotel in 1913. By design, it was a hotel that would reflect the patrons' twin passions of business and pleasure and also to accommodate northerners who heard that winter in Florida was better than winter almost anywhere else. The beach club was added in 1928, followed by an 18-hole golf course.
The Gasparilla Inn's founders and patrons understood the delicate challenges of building up the village without destroying the natural wonders of the island, from its fishing preserves to sugary sands. Amazingly, through the years, this spirit has passed on from generation to generation of owners, guests and residents.

The Gasparilla Inn & Club, a member of Historic Hotels of America since 2007, dates back to 1913.
*****
Guest Historian Series
Read more about the history of The Gasparilla Inn & Club, as told by Historic Hotels of America 2014 and 2015 Historian of the Year Stanley Turkel. Excerpt is taken from his latest book Built to Last: 100+ Year-Old Hotels East of the Mississippi (AuthorHouse 2013).